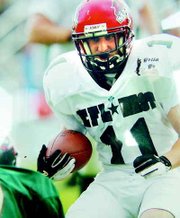 CHENEY - When Tanner Johnston played for the Grandview High School football team he didn't have lofty ambitions of playing the sport later in life.
"We weren't much of a football team," he says.
That all changed one day in 2004 when a friend told him he had read a story in the paper about tryouts for a new football league. Johnston, who at this time was attending YVCC, said his interest was piqued.
"I went and tried out and I made the team," he said. That team was the Yakima Mavericks, one of eight teams in the new Evergreen Football League.
The EFL is a semi-pro league but because the players don't get paid, Johnston is still able to retain his eligibility to play in college.
The EFL season starts at the beginning of April and Johnston played his first year with Yakima in spring of 2004 as a wide receiver. He transferred to Eastern Washington University that same year and he tried out for EWU's football team, the Eagles.
"I made the team as a walk-on but I couldn't play because I had just transferred from YVCC," he said. "I had to wait one year before I could play on the team."
Johnston spent 2005 with the Yakima Mavericks and did well enough to be named an All-Star. His stats for the 2005 season were 33 catches for 553 yards and five touchdowns. He averaged 16.8 yards per catch.
Fresh from his All-Star season, Johnston tried out again for the EWU football team in 2005 but didn't make the team.
"They went out and recruited five or six receivers that year and I'm guessing that had something to do with it," Johnston explained.
So Johnston concentrated on his studies and prepared himself for his third year in the EFL. He studies physical education at EWU and would like to some day come back to the Lower Valley and teach.
Until that time, Johnston is still playing football. He switched teams this year. He now plays for the dreaded Tri-City Knights, Yakima's biggest rival.
He made the switch this year because in last year's All-Star game, Johnston played with Knights quarterback Scott Biglin and liked it.
"He's a better quarterback than any other in the league right now," he said. "So I jumped ship."
Johnston is fitting in very nicely with his new team.
"I like it a lot," he said. "It's a lot different than when I was with Yakima. The Knights throw the ball a lot more so there's more opportunity for a receiver."
The EFL has football games every Saturday night. This Saturday, April 22, at 7 p.m., Johnston will reunite with his former teammates when the Tri-City Knights travel to Yakima to play the Mavericks in Zaepfel Stadium.
Asked if there is any bad feelings between him and his former team, he replied, "I know there is some bad blood."
He went on to explain that a lot of his teammates were pretty upset he went to play for the Mavericks' biggest rival. Still, he's looking forward to it. "It should be fun," he added.
Johnston is going to try out for the EWU Eagles one more time in the fall. If he doesn't make the team he will still be able to play in the EFL. He's lucky because there is more than one football league in the area.
"I'd love to play arena football," Johnston said. He's not ruling out the NFL either, but doesn't think it's likely. "If I had the opportunity I would."
For now though, he's committed to helping the Knights improve its 2-1 record. Already this season he has nine catches for over 100 yards and a touchdown. If he keeps up his performance it's a safe bet he will be playing in his second straight All-Star game.
photo provided by Sandi Johnston
Tanner Johnston played in the Evergreen Football League's All-Star game last year. In 2005 he averaged 16.8 yards per catch and caught five touchdown passes.