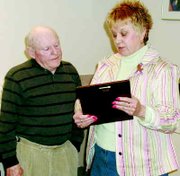 After years of threatening and being coaxed not to, Dr. Arthur Clevenger has retired from the Sunnyside Community Hospital Board of Directors.
Dr. Clevenger joined the board in 1988. When he tendered his resignation this week at the April 18th board meeting, he was presented with an award that described him as an inspirational leader in health care, a dedicated physician and a trusted decision-maker in shaping and directing medical services in Sunnyside, Grandview and the surrounding communities.
Part of his leadership led to the merger of Valley Memorial Hospital and Sunnyside General 20 years ago.
Dr. Clevenger came to Sunnyside in 1959, a time when doctors of osteopathic medicine weren't allowed to practice at Valley Memorial Hospital. The solution for the D.O.s was to build their own hospital in Sunnyside in 1965 to save themselves the drive they were taking into Yakima to practice at an osteopathic hospital there.
Through the efforts of doctors in both Sunnyside hospitals, a merger finally came about in 1985, and the merged hospital, housed at Valley Memorial, was given the name Sunnyside Community Hospital.
Dr. Clevenger retired from private practice in 1990, but continued to care for patients in the hospital's emergency room until 1998.
Although he and his wife moved to Yakima after his retirement, he still made the trip to Sunnyside to faithfully attend the board meetings.
"After I closed my office in Sunnyside, I was not involved in all the day to day problems of the hospital, so I thought about quitting the board two or three times. But since I was the only long-time health care provider around, I sort of stayed on just to keep them with a proper perspective," Dr. Clevenger said in May 2005 at the hospital's 20th anniversary of the merger.