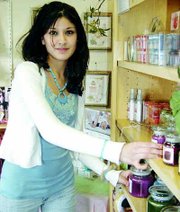 The Cinco de Mayo Committee is seeking nominations for grand marshal of the parade, which will be held Sunday, May 7, on the last day of the three-day celebration.
"We have had many parade marshals in the past and the committee has been struggling with a choice for his year," said Brezzi Campos, president of the Sunnyside Chamber of Commerce, which is sponsoring the celebration under the direction of Lino Guerra.
She said they are seeking a marshal who has been a moving force in the Hispanic community either as a business owner or volunteer.
Nominations should be phoned to Campos at 830-4199 or Guerra at 391-0089. They can also be dropped off at the chamber office at 230 East Edison Avenue.
The nominations must be received by 5 p.m. Wednesday, April 26. The committee will make its decision at a meeting that evening.