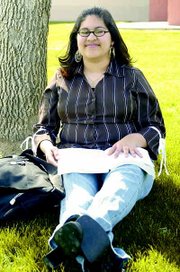 Most high school students look forward to summer vacation as a time to relax, have fun and NOT STUDY. Most that is except for Brenda Perez-Alvarado.
Perez-Alvarado applied to and was accepted to attend the Massachusetts Institute of Technology MITES program. MITES stands for Minority Introduction to Engineering and Science.
The 17-year-old junior at Sunnyside High School applied Feb. 1 and received her answer on April 10. Perez-Alvarado had to send her transcripts, send in three written essays, get recommendations from her math teacher, science teacher and her counselor. She also had to send her PSAT scores along with filling out the application.
The program begins on June 21 and will end on Aug. 5. During the six and one-half weeks Perez-Alvarado will be there, she will attend seven hours of classes each day and will be expected to study an additional five hours during each week day and four hours each weekend day.
So why would a young high school student want to spend 12 hours a day studying during her summer vacation?
"I think it's going to be a great experience," she said. "It's going to prepare me for college. I'm going to be exposed to a lot of different people and cultures that I wouldn't be exposed to here."
When she arrives in Boston, she will take an assessment test that will place her in the math and science classes she will be taking.
She must choose between bio-chemistry, biology or chemistry. She must take humanities. She can take physics, advanced physics or "wave" physics.
She can choose from a list of electives: genomics research, engineering design or internet programming.
"The calculus I take there will help prepare me for the calculus I take here at Sunnyside next year," she said.
The 3.998 grade point average student is thinking about becoming a lawyer or a genetic engineer. Her dream school right now is Stanford University with the all-girls school, Wellesley College, a close second.
All costs of Perez-Alvarado's stay at the MITES program will be taken care of by the Massachusetts Institute of Technology except for her travel expenses to Boston and back.
What's the biggest thing she's looking forward to?
"Learning all of the new things I'm going to learn and taking the genomics research class," she added.