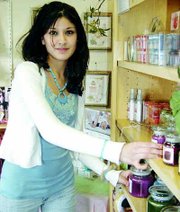 Grandview High School sophomore Yasmina Chavez joined the working world two weeks ago when she began her first job at Paper Tree and Gift Garden at 524 S. Seventh St. in Sunnyside.
Working in customer service, Chavez helps visitors to the shop find just that right birthday gift, such as scrapbook supplies.
Chavez said her favorite items at the store are the candles, but working around the scrapbook supplies has prompted her to consider starting her own collection of memories during her high school years.
She said she received help in finding her first job from a friend.
"I was scared at first," she said of joining the Lower Valley work force. "But I've gotten used to it."
Adapting to a part-time job also means scheduling time for her school work. "It can be kind of stressful," she said, noting that sometimes she has homework awaiting her when the work day ends.
Meeting new people and learning new tasks on the job are interesting, but Chavez, 16, said receiving her first paycheck has been a highlight.
"I was pretty excited," she said. "I have money to spend."
So what does she plan to do with her first bit of income.
"I want to save it," she said with a smile. "I'm going to take drivers education classes so I can drive myself."
But then there is the scrapbooking.
"I want to spend some of it on a scrapbook for Grandview High School," Chavez said.