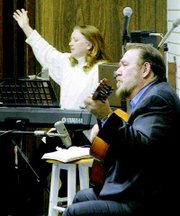 Calling all "psalmists, praisers and intercessors"-Regner and Delia Capener are looking for you.
The Sunnyside couple isn't looking to start a church, mind you, but more of a movement towards what Regner Capener calls "ministering to the Lord 24 hours a day".
The couple, who moved to the area last year from Texas, recently started the River Worship Center at 700 South Sixth Street in Sunnyside, formerly the Chamber of Commerce office.
Again, Capener says, it's not a church but just an outlet for worship and praise.
"It's kind of like the Grand Ol' Opry, but the music is to the Lord, not for entertainment," said Robert Storer, an assistant to Capener.
Capener said he'd rather not be called a pastor, and has minimized possible scheduling conflicts with other church services by having the River Worship Center meet at 7 p.m. Monday through Friday and 2 p.m. on Sunday. The center can be reached at 837-4657.
With more than 40 years experience in radio and television broadcasting, Capener said his work has literally taken him everywhere from the cold north to the dry heat of the south.
In Alaska he constructed a station for CBN, Christian Broadcasting Network, and most recently he was in Texas to help build one of Telemundo's largest stations.
But the goal is all praise, all the time, the 64-year-old Capener said of his vision for a 24/7 worship center.
He said the worship vision began 30 years ago, based on what Israel's King David did when the ark of the covenant was recovered from their enemy, the Philistines. The Israelites believed the ark represented God's presence among them.
"David appointed three families to minister to the Lord 24 hours a day," Capener said. "When Israel was in continuous praise to God it flourished."
Applying the 24/7 idea to New Testament christianity, Capener envisions a sanctuary where people of various beliefs can share in worship together.
So who are psalmists, praisers and intercessors?
And what does it mean to "minister to the Lord"?
Psalmists, Capener explains, are people who spontaneously sing Psalms from the Bible set to music. Praisers are people who praise the Lord, in essence singers, he said. Intercessors, Capener added, are people who pray to God for others who are ill or in a difficult situation.
Ministering to the Lord, he says, includes worship in the form of songs, prayers and sharing messages from the Bible.
Spontaneity is part of the "spirit filled" worship experience the Capeners seek to share with others.
"We see our purpose as having a vision to inspire and assist praise and worship leaders in the various churches, and take them in a direction they may not be familiar with," Capener said.
That direction includes a 24/7 worship center on a bluff above Prosser. It would be staffed by teams day and night to offer praise and worship, and to welcome others in participating.
With his television background, Capener said he envisions a time when the praise and worship could be televised locally 24 hours a day.
Capener, who moved to this area last summer with Delia to help care for her mother, said an offer has been made on the land.
If the offer is approved, groundbreaking could happen as early as this summer. Completing the project would be another two or three years away, Capener said.
In the meantime, the Capeners will go with the flow at River Worship Center.
"We are not here to build a church," he said. "But to provide a place where people can get together and minister to the Lord."