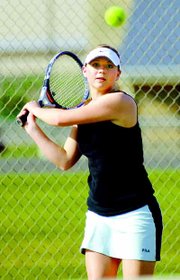 GRANDVIEW - The Grandview tennis teams rolled on Thursday, recording their second consecutive sweep with identical 4-1 wins in both girls and boys play, this time over Toppenish.
The Lady Greyhounds No. one singles player, Miranda Shreeve, opened with a 6-1, 6-2 win over Christina Moreno.
Sydney Mottice suffered the only loss for the Grandview girls, as she was defeated 6-1, 6-2 by Yvette Aguilera.
Allison Grow and Danika Martinez opened doubles play with a convincing 6-1, 6-1 win over Melani Nunez and Sarah Dones.
Sara Amaro and Kyla Leyendekker followed with a 6-3, 6-0 victory over Toppenish's Karla Hernandez and Courtney Shank.
Girls play wrapped up with Grandview's Christine Penwell and Noelle Miller prevailing for a 7-5, 6-2 win over Nayley Mendoza and Veronica Graciano.
The victory improved the Lady Greyhound's record to 3-5 in league and 4-6 overall.
In boys competition, Grandview's Kevin Floyd provided a 6-1, 6-0 romp over Ethan Reynolds. Teammate Chase Lindsley followed with a 6-0, 6-1 win over Josh Schutz in No. 2 singles play.
In the closest match of the day, Joey Diaz and Marco Diaz battled to a 6-3, 2-6, 7-6 win over Toppenish's Mario Peters and John Schutz.
"That was the tighest match," observed Coach Jaime Morales. "I was really proud of the boys for sticking with it."
Grandview's Robert Madrigal and Nick Saldana lost 6-0, 6-3 to Johnny Gonzalez and Aaron Avalos.
The Greyhounds wrapped up the match with a 6-2, 6-2 victory by Paulino and Rodrigo Fajardo over Rudy Artega and Emilio Polino.
The boys improved to 7-1 in league and 8-2 overall with the win.
Grandview is home this Saturday to take on Naches in a CWAC South contest.