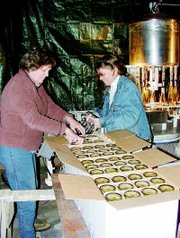 A little winery with big ideas opens this weekend just north of Sunnyside with some of those ideas already developed.
It won't be just the Riesling, Gewurztraminer and Syrah wines Steppe Cellars has produced its first year that will be on tap, but a series of taste treats will also be offered throughout the year.
This weekend it will be stir-fried asparagus, with and without beef, that will be ready for tasting from 11 a.m. to 3 p.m. at the winery at 1991 Chaffee Road.
The open air dining in the winery's cherry orchard will be as free as the breeze, but the food, prepared by Guerra's Gourmet, will cost $12 and will include a bottle of water.
A heartier meal will be offered the weekend of April 28 for Steppe Cellar's grand opening that will kick off Spring Barrel Tasting in the Valley.
Grand opening offerings from 11 a.m. to 7 p.m. will be grilled salmon, asparagus, rice and Guerra's special toasted bread, along with a bottle of water. Cost $15.
Another twist the new winery has added is to bring the wine-making equipment into the tasting room during the months it is not in use.
"We want the public to be able to see how the wine is made. The bottling line will be in the tasting room, as well as the stemmer and crusher and the press," said Susan Garrison, one of four owners.
Functional artwork pottery by Wendy Applegate of Muskat Pottery in Prosser will also be on view and for sale.
Winemaker Anke Freimuth-Wildman, a native German, has produced a Riesling wine for Steppe Cellars that is inspired by the world class Rieslings of Germany's Mosel Valley, where she grew up. It must be tasted to believe its rich flavors of ripe apple and peach married with a crisp acidity to provide a long, lively finish.
The winery's other first-year offerings are a Gewurztraminer with a crisp, citrusy acidity in the finish and a Syrah the German winemaker has blended that comes from two vintages, a 2003 component that contributes depth and structure and a 2004 that brings lively fruit flavors and aromas to the blend.
All three will be available for tasting and purchase at the winery this weekend.
"And the coffee and teapot are always on for the designated drivers,' said Susan.
In addition to Garrison, the partners who are involved in the new winery are her husband, Tom, and Anne and Terry Harrison. They became licensed last spring and have been working since then on getting the winery up and running.
"Our winery grew from our shared hobbies and interests," said Garrison. "We enjoy making and trying new wines, and we enjoy learning about and exploring our shrub steppe environment."
The winery's name comes from the shrub steppes that surround it, wild land rich with sagebrush and bunch grasses that have loaned their name to the fledgling winery.
"We just think the shrub steppe is really cool. We're always out walking in it, so that's why we named the winery Steppe Cellars...shrub wouldn't have sounded too good," said Susan, laughing.
Other taste events the owners are planning for 2006 include a July 4th weekend of sausages with salsa fresca, an August/September apple harvest with orchard-fresh fruit available, a September grape harvest at which the public can watch the excitement of harvest and sorting of the grapes, and an October Federweisser and Zwiebelkuchen, which is a traditionally German tasting of still fermenting white grape juice right from the tank served with onion cake.
Winery hours on non-event days are 10 a.m. to 5 p.m. Thursdays through Mondays, with an extra hour on Saturdays, when doors close at 6 p.m.
The easiest route to the winery from Sunnyside is to travel west on Yakima Valley Highway, taking a right onto Maple Grove Road and then a left onto Chaffee Road where the winery is located in the 1900 block.