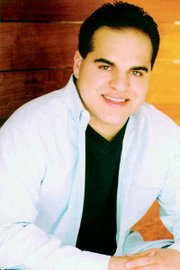 A local boy has grown up and is trying to break into the movie-making business.
Benjamin Vargas, who played basketball for Mabton and graduated from the high school there in 1994, is getting his feet wet in the acting business in California.
He's already been seen frequently as an extra on the TV show Grey's Anatomy and chalked up a national commercial spot for the Saturn car company, which entitled him to the card from the Screen Actors Guild (SAG) that all budding actors covet.
"I booked the Saturn national commercial on my fifth audition and that's all it took to get my SAG card. I was very blessed, because that puts you ahead of the line," said Vargas, who has been standing in line for acting roles since 2002.
"For awhile I was going to Grey's Anatomy six times a month. It was a good little gig, and then I acted in little student films-no pay, but it's experience and it's good for the resume," Vargas said.
Educated as a teacher at Eastern Washington University, where he graduated in 1999, and at California State University Fullerton, where he earned his Masters degree, Vargas subsists on earnings as a substitute teacher.
"I gave up full-time teaching in 2002 in order to pursue an acting career. Because I was young, single and had no kids, I could do that. I knew if I didn't pursue acting now, I would never ever do it, so I moved to west Los Angeles and started substitute teaching in the Culver City School District and taking acting classes on the side," said Vargas.
"And found a manager and an agent," he added.
With that effort-and three years behind him-Vargas is making one last stab before he turns his back on the movie business and returns to teaching.
"I promised I'd give myself three years to pursue some kind of acting. Three years, because life as an actor is hard, but now it's time to take one last shot," said Vargas.
The shot he's firing is to make his own movie.
"I feel this is something I really need to do before I go back to teaching so I don't have to live with any wouldas, shouldas, couldas," he said.
Vargas has a screenplay written. He calls it Brown Town, and says "it's about three guys trying to figure out who they are in a sea of hating people, who are trying to tell them who they are."
He said his movie will show the importance of education and will not depict the three Hispanic characters in it as gangsters or gardeners, stereotype roles that are too often offered to Hispanics by Hollywood, he said he's found out.
Vargas plans to shoot his movie in Grandview and Mabton, and he's already been to the Valley seeking permission from the powers that be to shoot on locations in those towns.
"I couldn't make this feature film here in L.A. It would be too expensive, and, besides, there is an excitement to filming it where I grew up," he said.
Vargas said he will take one part in the movie and already has several other SAG actors lined up for key roles, but is still looking for financial backers.
He's aiming at making a low budget movie that, at worst, would go straight to the video market and provide him with enough profit to make a second movie.
"But it could be a success!" Vargas said, optimistically.
"I've made a web page and I'm promising to make a movie," said Vargas, hoping that some deep pockets out there might be willing to sink a few dollars into Brown Town whose budget he's planning to keep right at $20,000.
"And that's a low budget for a feature that will run one and a half to two hours because a budget for a short movie runs over $20,000," he said.
He plans to start shooting the movie as early as the end of May, but definitely wants it completed by mid-summer.
"You always want someone to believe in you and take a chance," said Vargas, as he issued an invitation to people to take a look at his website, which is: timin88@yahoo.com.
"Go to the website, get to know me and if you want to help me out, contact me," he offered.
Vargas, whose parents Luis and Rafaela Vargas sill live in Mabton, has an e-mail address too, if prospective financiers would like to use it. It is admin@browntowntheflick.com