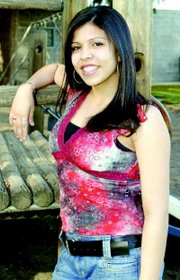 Daneill Gonzalez is already a big sister but if she is named Miss Cinco de Mayo April 28, she would like to take it a step further.
"If I'm chosen I would like the court to become involved with the big brother/big sister program," she said. "Each member of the court would adopt a little brother or sister and spend time with them."
The 16-year-old junior at Sunnyside High School has three brothers and two sisters at home and her mom is due to have another child in June.
Gonzalez wants to become Miss Cinco de Mayo so she can represent the Hispanic community in the Lower Valley and be a role model for younger girls.
She thinks she would be a good choice because, "I think I have a really good personality." She added, "I'm outgoing and I like to make the best out of every situation." She admits to having a fondness for the limelight.
She was involved with cheerleading last year and is trying out for the squad now. Gonzalez is the vice president of her class, is involved with Key Club, the prom committee and a member of teen awareness. This is where she and other students go to elementary schools and warn kids about drugs and teen pregnancy. Her favorite subject in school is welding.
Once Gonzalez leaves high school she would like to pursue a career as a social worker. She's hoping to study sociology either at the University of Washington or Washington State University.
"I read a book called, 'A Child Called it' and it just blew me away," she explained. "It's about a little boy who's abused by his mother." It was when Gonzalez read this book that she first started thinking about a career as a social worker.
When asked what Cinco de Mayo means to her, she said, "It reminds me of how far the Hispanic culture has come."
Some of Gonzalez's hobbies include singing, shopping, hanging out with friends and family, dancing and most important of all, laughing.
"I'm very friendly and I love to meet new people," she exclaimed. "Me and the girls get along so well. It's never boring when we're together."
Gonzalez said in the talent portion of the April 28 Miss Cinco de Mayo Pagenat she will start off clogging, a form of tap dancing, to the song Mambo #5, then she'll bust out with a Hispanic/merengue/salsa/hip shaking number to the tune of Shakira's "Hips Don't Lie."