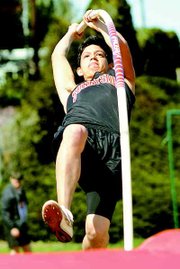 PROSSER - Sunnyside track and field athletes earned first place honors in four events during competition this past Saturday at the Prosser Rotary Invite.
In the girls meet, Sunnyside earned third-place team honors with 70 points in the 16-team event.
Yanet Candido was first in the 3,200 meters for the Lady Grizzlies with a time of 12:16.52, and teammate Christy Linde brought home the top prize in the triple jump with a mark of 35-1.
Sunnyside track coach Robin Bryson said Claire Schilperoort recorded a personal best throw of 113-8.25 for first place honors in the discus. Schilperoort also threw a personal best of 111-3 in the javelin to earn sixth place, Bryson added. Courtney Kirkwood of Othello was first in that event with a mark of 156-1.
Maria Ramirez was sixth in the discus for Sunnyside, with a mark of 92-3.
The Lady Grizzlies also had two athletes place in the shot put. Sarah Killian was fourth with a throw of 32-0 and teammate Carly Dahlstrom was sixth with a throw of 30-9.
Fatima Ruelas of Sunnyside earned third-place honors in the 200, with a time of 27.98. Kayla McKiernan of Richland was first in 25.61.
Linde placed in both the hurdles events, taking fourth in the 100 (16.10) and second in the 300 (49.62). Caroline Hedel of Richland won the 300 hurdles in 46.85 and Ellensburg's Kayla Standish grabbed first in the 100 with a time of 15.15.
Sunnyside's Teresa Ramos recorded a personal best time of 2:38.99 in the 800 meters, good for sixth place.
Teammate Brittany Messmore also finished with a personal best in the 1,600, good for a fourth-place time of 5:38.10.
Jordyne Jaquish cleared five feet in the high jump for Sunnyside, claiming third place. Ellensburg's Robyn Roblee was first with a mark of 5-2.
The Sunnyside girls also scored in the 4x100 relay, as the team of Linde, Ruelas, Jaquish and Taylor Gardner brought home fourth-place honors with a time of 53.34.
In the boys meet, Sunnyside placed 10th as a team with 14 points.
The Grizzlies' Andrew Gonzalez won the 3,200 meters race with a time of 10:14.55. "That was an impressive race for a freshman," Bryson observed.
In the same event, Sterling Scott nearly recorded a personal best of 10:40.62 for a sixth-place finish.
Sunnyside's Roy Haringa recorded a personal best of 17.36 in the 110 hurdles for a sixth-place finish. Kiona-Benton's Leavitt Holden won the event with a time of 15.21.
Casey Smith of Sunnyside was fifth in the shot put with a toss of 43-2. Richland's Mike Demiter won the event with a mark of 55-2.
"I was really pleased with how the kids competed," Bryson said of the meet. "There was real balanced competition."
The Sunnyside track teams, both 1-2 in head-to-head meets, take on West Valley in a MVL meet this Thursday.