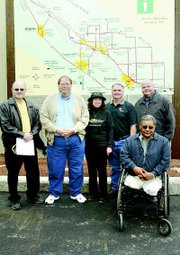 GRANGER - Mayor David Leach of Granger unveiled the first Rattlesnake Hills Tourist Trail information sign in Granger last Friday morning. On site to help him was Mayor Bill Rogers of Toppenish, Mayor Jesse Farias of Wapato and Mayor Gary Clark of Zillah. Shirley Puryear, chairperson of Rattlesnake Hills Tourist Trail, was also on hand.
The Rattlesnake Hills Tourist Trail is a new partnership of 19 entities, including the four cities, the Yakama Nation and 14 private and nonprofit tourism related groups.
This economic development driven partnership is a result of a collaborative effort to identify ways in which the promotion and enhancement of tourism in the central Yakima Valley can be maximized. The focus of the project is to share staff, equipment, and financial resources and to foster cooperation and improve the economic health of the area.
"Our mission was and is very simple," Puryear said. "Give the tourists enough to do to keep them in the area for two or three days. Make these tourists happy so they will tell their friends and they will return again and again."
This started back in 2004 when the City of Toppenish engaged the services of a tourism consulting firm to perform a tourism assessment of the area and to develop a strategic plan to promote and enhance tourism development opportunities in the central Yakima Valley.
While the Rattlesnake Hills Tourist Trial was forming, representatives from the four cities of Toppenish, Zillah, Granger and Wapato were meeting separately to discuss ways in which the cities should partner through an inter-local agreement on tourism so that staff, equipment, and financial resources could be shared.
All four cities signed the agreement by the middle of 2005 and soon agreed that they should play the lead role in financing and placing information and directional signage related to the Rattlesnake Hills Tourist Trail.
The Rattlesnake Hills Tourist Trail identified three priorities. They were signage, which the four cities agreed to take care of, development of a web site and a joint marketing and advertising program.
The first sign unveiled shows the new Rattlesnake Hills appellation with the four cities and several wineries. There will soon be three more signs in Toppenish, two in Zillah and one in Wapato.
"This is an awesome thing," Toppenish Mayor Bill Rogers said. "This isn't the first time we've worked together before. I remember in the early 80's we decided we wanted to have cable television."
Rogers recalled how the cable company informed him his market was too small so the four cities came together to form a bigger market.
"This is an incredible achievement," Jesse Farias, Mayor of Wapato, said. "The ability to forge a partnership between four cities with different interests in trying to find a common interest with all the other partners in less then two years. Can you imagine that?"
The Rattlesnake Hills Tourist Trail is hoping to see results quickly. Already they believe the potential for a very effective tourism partnership is very promising.