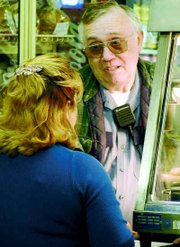 A crack down Friday evening on Sunnyside businesses selling alcohol to minors resulted in four arrests that could cost the sellers $5,000 each or a year in jail or both.
The arrests were made in a two and half-hour sweep of 12 Sunnyside businesses by two teenagers working with the state liquor control board.
Less than two weeks ago, Gabriel Ramos stood up at a town hall meeting in Sunnyside and announced his intention to do exactly what he is paid to do. Evidently, the people his proclamation would effect weren't at the meeting to heed his message.
Ramos is an enforcement officer with the state liquor control board. Friday evening he escorted the two teenagers to markets to see if the businesses were complying with the law.
The test went quickly, with the teens entering a market, selecting alcohol and plunking down the bucks to buy.
They were able to purchase six packs of Smirnoff wild grape alcoholic beverage, bottles of Blue Hawaiian, Boone's Farm malt beverages and Bacardi Silver with a five percent alcohol content-all with cards that identified them as being 18 and 19 years old.
"You were born the same year I was," one of the clerks told the 19-year-old as she rang up the sale.
"I felt kind of bad," the female half of the buying team said after she made her first buy of the evening.
"It would have been different if the clerk didn't care, but she really tried," said the teen.
That clerk had entered the teen's ID card into a machine that beeps if the card belongs to a minor.
"She said, 'There's something wrong. The machine won't take your card.' Then she looked at the birthdate on the card and said, '1988? You aren't 21'," the teen said, explaining how the sale went down.
Her 19-year-old partner jumped in to tell the clerk, "She's 21. I was born in 1986 and I'm 23."
"Oh, OK," was the clerk's response, and she sold them the alcoholic drink they'd chosen.
"I think she just couldn't do the math quick enough," said the 18-year-old.
One clerk out of the four who sold to the minors didn't even ask for identification as she sold them two bottles of the colorful Blue Hawaiian. The other three clerks all checked the teens' ID before selling to them.
After each sale Ramos and his fellow enforcement officer, Rafael Lucatero, checked the teens' purchases, obtained descriptions from them of the clerk who made the sale and then entered the store to confront the clerk.
Sunnyside Police Sgt. Preston Kelley wrote the criminal tickets that require the clerks to appear in Sunnyside Municipal Court to face the charges.
The stores that were in non-compliance are Valley View Market, AMC Market, Pik a Pop and 16th Street Market.
The charge each clerk faces is a gross misdemeanor that could bring the offender a year in jail or a $5,000 fine or both, depending on the judge.
"If I had taken them to jail right then, it would have been $250 bail," said Kelley, who only issued tickets Friday.
"The licensee is responsible for what the clerks do," said Ramos. "If they don't have a history (of selling to minors), most likely they'll get a written warning."
Licensees with an offense on record can expect a five-day suspension of their liquor license and a $500 fine. A third offense could bring a seven-day suspension of their license and a possibility of a monetary fine, Ramos said. "A fourth offense could be a 30-day suspension of license or they could possibly lose their license," said Ramos.
The teens who worked with the enforcement officers Friday do so for varying reasons.
The 19-year-old, a male college student, has been working with the state liquor and tobacco officers since he was 14.
"Before they're 17, they work tobacco. After 17, they work liquor," said Ramos.
"Probably 100 times, from Naches to Ellensburg," said the young man, estimating how many times he has made buying runs for tobacco or alcohol to help the enforcement officers check on how well businesses are adhering to the law.
"It was my first job," he said, explaining that his parents know people who work for the liquor board. "I'm kind of a conservative and don't think the law is kept like it should be.
"It sounded like a pretty good job, and I like working with these guys," he added, giving Lucatero and Ramos a friendly punch.
His partner Friday evening was on her first run with the enforcement officers.
A non-drinker, she said she feels it's a job someone has to do, if teenage drinking is going to be curtailed. She worries about her fellow teens who drink.
"I know that alcohol kills more kids than drugs," she said. And that's a statistic she said she'd like to help change.
Neither teen foresees a career in law enforcement.
Ironically, Friday's teen-buying trip wasn't the first for Sunnyside.
A few weeks ago, a pair of teens with the liquor enforcement officers made the same rounds, but visited 20 markets instead of just 12.
That pair were able to buy alcohol at five markets, four of them the same markets that sold liquor to the minors this past Friday. Law enforcement officers didn't ticket them, didn't even enter the stores, just jotted down the names to revisit...which they did Friday.
"One of those five didn't sell this time, and that's good news," said Ramos. "We're glad when they don't sell to our kids. It shows us they're really doing their job, checking ID, being in compliance," said Ramos.
Ramos said he uses several teenagers to help check compliance at businesses selling liquor.
"They start out at $9.26 an hour. Maybe we'll use them two or three times a month," he said, adding that he has two on his payroll now that shop for alcohol and three who shop for tobacco.
"We recruit kids. I go to local high schools or people know me and they call me," he said, offering his phone number (509-454-4381).
Ramos has another number to offer to those who would like to report violators. That toll-free number is 1-888-838-3956.