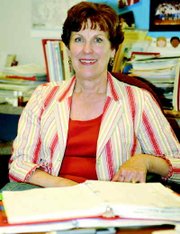 GRANDVIEW - After spending 26 of her 29 years as an educator in the Grandview School District, Sue Johnson will retire at the end of this school year.
Johnson has called Grandview home since she was six years old. She went through the Grandview schools for her education and then went on to Washington State University. There, she studied business.
"I didn't like studying business very much," Johnson said. "My mom was a teacher and one time when I was home from school on vacation, my dad asked, 'as much as you like kids I don't know why you don't think about becoming a teacher'." It's then Johnson changed her major.
She received her Bachelors in education from WSU and then went to teach first-graders at the Highline School District in Seattle. She spent three years west of the Cascades until she moved back to Grandview.
"In those days a teacher had to get what was called their fifth year of education after we received our Bachelors degree," she explained.
Teachers had five years from the time they graduated to complete their fifth year. Johnson spent her fifth year at Central Washington University in Ellensburg. She later received her Masters degree in teaching at Heritage College.
After she moved back to Grandview, she took a break to raise her family before becoming a pre-school teacher for a couple of years until her children started school.
When her kids were in school she taught for one year at the Arthur H. Smith Elementary School. After the year was up Johnson spent the next year as a substitute teacher and then joined the staff at Harriet Thompson Elementary School, teaching the third grade for eight years.
Johnson says she eventually tired of teaching handwriting and taking the kids out to recess so she made the move to Grandview Middle School. She spent her first four years at the middle school teaching the sixth grade.
She then started teaching reading improvement to students that were behind in their reading skills. She did this for the next several years until this year, switching to teach reading, English and ancient civilization to seventh-graders.
What made Johnson teach for so long? "The kids," she answered. "People always ask me why I teach middle school students. They're the hardest age to teach. I answer because no day is the same. It's exciting work and the kids are fun."
She says there is no way to describe the feelings she feels when she sees a kid 'get it' for the first time.
She said she will miss the students and the people she works with the most but admits she will not miss the workload. "The work never ends," she said. "You're always behind."
What has been the biggest change Johnson has seen in the 29 years she's been a teacher?
"The kids," she answers immediately. "They're not as well behaved as they were when I first started out. I don't think they know as much now as they did back then either."
She points her finger at television but also lays some of the blame on parents.
After this school year, Johnson might not be working but she will still probably feel behind and constantly trying to catch up. She has lots of plans.
"I have eight grandchildren from two months to nine years old," she said. "They take a lot of my energy."
Johnson and her husband would also like to spend some time traveling, especially to Germany. She and her husband would also like to travel across Russia on the Trans-Siberian Railroad.
There is also the hope of becoming a master-gardener and she has llamas to care for. "I'd like to get at least one of them tamed," she added.
She is also looking forward to spending time with her bridge club doing what else, but playing bridge.
Although she's leaving teaching it won't be very far from her. Johnson's mother was a teacher, her three sisters are all teachers and both of Johnson's children are teachers, too. Her daughter, Julie Perez, works at Harrison Middle School in Sunnyside and her son, Ryan Maxwell, is a vice principal at Sunnyside High School.
She credits her mother and father as the biggest influences in her life.
"I saw my mom raise a family and still have time to be a teacher," she says. "When I decided to become a teacher, I patterned my life after my mom's."
A life no doubt that made her parents very proud.