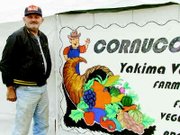 GRANDVIEW - John Hammers has tackled so many jobs in his 62 years he says he doesn't expect anyone to believe him.
He's a journeyman baker, a welder, a computer programmer, a licensed electrician, a refrigeration specialist, a ham radio operator, a pilot who owned his own Cessna 140 and a semi-truck owner and driver.
It's the latter avocation that prompted him to open a fruit stand in Grandview on April 14.
"To put a truck on the road costs $20,000 and that doesn't include the fuel. I really think the cost of diesel is going to go to $4 a gallon," said Hammers, adding that those facts were enough to convince him to get off the road and take his act under canvas.
Well, his Cornucopia Fruit Stand at the edge of Grandview on West Wine Country Road isn't really under canvas. The sparkling white canopies he ordered from the internet are today's version of canvas, but without that fresh, good smell canvas takes on after the rain, Hammers noted.
Which may be just as well, as customers will be greeted only by the sweet aromas of fresh vegetables and fruits, no matter what time of year or what the weather, when they shop at Cornucopia.
An artist in his own way, Hammers painted all the signage for the business, even the brightly colored sign that carries his logo. Oh yes, and because he's also worked as a carpenter, he built his own stands that are holding locally-grown asparagus, apples, pears, potatoes and onions at this time.
He also carries produce and fruit from Chile, Texas, California, New Mexico, Mexico and Florida...and will until local crops become available.
The stand will be open from April to mid-October. Hours at this time are from 10 a.m. to 6 p.m., and will be lengthened as the season progresses.
Hammers, who has lived in the valley for 40 years, trucked produce for seven years to fruit and vegetable stands in Washington and Idaho.
"Since I'm now on this end of the business, I will sell at a reduced price and take a loss to avoid the bigger risk of throwing things out," said Hammers, who already learned a lesson when two cases of lettuce proved to be slow movers.
"It just didn't sell at first, and I ended up giving heads of lettuce to people who looked like they couldn't really afford to spend a lot," said Hammers.
He said he intends to maintain a sale table of items that must move out before they are lost.
"And I always offer a 10 percent senior discount," he said.
His goal is to have "a good looking display that looks like a real fruit stand," he said. And it will all be under a 40x20 tarp with surplus stock tucked away in a 20x10 storage canopy.
The entrance to his business is not all that obvious.
Cornucopia sits at 1027 West Wine Country Road, just a hop-skip-and-jump off I-82's first exit into Grandview. If you pass Marchant's furniture store, you've just gone too far. It is marked by a friendly scarecrow figure at road level and a zig-zag row of rustic fence railing that leads down to the fruit and produce stand.
So far, customers have found their way to it, and have proclaimed it "a real fruit stand", just as Hammers hoped they would.
"This gives me something to do and it's out in the fresh air. It makes a nice retirement," said the man, who has also been a Yakima County Sheriff's deputy.