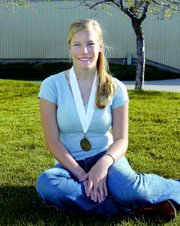 GRANDVIEW - Allison Grow has been around the Junior Miss program in Grandview for most of her life and had an older sibling that held the title, so it's only fitting the 17-year-old junior at Grandview High School now holds the title of Grandview's Junior Miss.
On top of her duties as Junior Miss, Grow also plays high school soccer, tennis and swims for the Grandview Rotary Club swim team during the summer. She maintains a 4.0 grade point average.
Still, it was a shock to Grow when she was named Grandview Junior Miss two weekends ago. "We had a really good group of girls this year and all were equally qualified to win," she said.
Grow said she knew grades would weigh heavily in the judges' decision and she was one of only two girls who had a perfect 4.0. She thought if she could do well in the other events she might have a chance.
When Janett Romo and Danika Martinez were named co-finalists, she worried she might not even make the court and was shocked when she won.
"I was really excited," she said. "The first thing I wanted to do was hug my sister. I was also really excited about the court. Danika is one of my best friends and her family will be awesome to work with. I've known Janett for a couple of years now and she's such a sweet girl it will be fun to hang out and work with her."
Grow would like to represent Grandview well in all she does for the court, which will include ribbon cutting ceremonies, riding the float in parades and volunteering for community events. She also wants to be a role model for girls at the elementary schools and is an advocate of the "Be Your Best Self" program
This is a program the Grandview Junior Miss court participates in. They visit elementary schools and emphasize to the kids to be themselves and do the best they can.
"It's one of the programs we're lucky enough to do," she added.
The court will also visit the nursing home in Grandview once a month. The girls host a monthly celebration for all the residents with birthdays during that particular month. They sing happy birthday to them and have cake and visit. "I like it," she said.
The biggest thing Grow is looking forward to is being a role model to the little girls of the community.
"I can remember how much I looked up to them and how I wanted to be just like them," she said her thoughts were of the court when she was a little girl. "I hope the girls today will look up to me like I looked up to them."
She's also looking forward to getting closer to Martinez and Romo and making some fun memories.
Grow and the other court members will be spending a lot of time on their float at different parades around the state. The Grandview float should be ready to go this Saturday at the Cherry Festival in Granger.
The float will be ready but Grow won't be. She will be in Dallas, Texas attending the national conference of DECA. She comes home May 3 and will be at the rest of the parades.
Grow is hoping to attend Washington State University when she graduates from Grandview High School next year and study Equine Medicine. She wants to be a horse doctor.
Until that time comes though, Grow will be busy competing in sports, doing school work and representing Grandview as its Junior Miss.