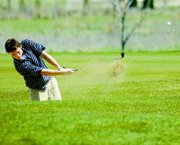 The good news is that Sunnyside finally fielded a full team in a Mid-Valley League POD competition yesterday. The bad news-the Grizzly golfers settled for a sixth place finish from the seven-school field.
Sunnyside was unable to get four golfers, the minimum required to tally a team score, out for the first three POD contests of the season. Tuesday, though, the Grizzlies took their turn at hosting a league match and for the first time this year four golfers were eligible to compete.
Led by sophomore Justin Bos, who made his way around Sunnyside's Black Rock Creek Golf Course with an 11-over-par 83, the Grizzlies tallied a team score of 411. Wapato was the only team to finish with a higher aggregate score-a 449.
Hanford won the team title with a 300. West Valley was a close second with a 303, with Ellensburg not far behind with a 314. Selah (354) and Prosser (380) placed fourth and fifth, respectively.
West Valley's Ryan Hall and Hanford's Casey Johnson shared medalist honors with identical even-par 72's.
Bos, in turning in the low Sunnyside round, was poised to actually finish just six or so strokes back of the two medalists. But on his finishing hole, Black Rock Creek's treacherous No. 6, Bos absorbed a 10, thanks to a pair of OB's.
"Justin had been playing pretty well up to that point," said Sunnyside Coach Glenn Braman.
Second in for the Grizzlies yesterday was Andrew Swinehart. He carded a 91, which according to Braman, is a marked improvement over his last couple of POD competitions, when he scored just above 100.
Sam Bardell posted the third low round for the Grizzlies, a 100, on front and back nine scores of 53-47.
"Sam got off to kind of a rough start," Braman said, explaining that Bardell began his round on No. 5 and opened with a 10 and 9 on his scorecard.
"After that he played pretty well, though," Braman said.
Rounding out the scoring for the Grizzlies was a 137 (74-63) by Nigel Weenink.
The SHS boys team is scheduled to play a league POD match at Cle Elum's Suncadia Golf Resort next Tuesday.