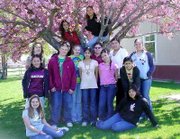 GRANDVIEW - The Grandview Middle School Builder's Club is in its second year of existence.
The builder's club is a little sister to the high school's key club and is sponsored by the Kiwanis Club.
"Our focus is to be a service group at the school," said Lorri Gilmur-Dillman, a science teacher, leadership advisor and advisor to the builder's club.
The club is limited to eighth-graders at the school and they meet once a week during lunch.
"Our goal is to have a service project every month and we do something fun once a month, too," she said.
When it's fun time they do stuff like watch movies or do some karaoke.
The club's first big project of the school year involved selling wrapping paper and candy. The club raised $500 and they donated this to the Salvation Army.
The club's next fund-raiser had them selling candy bars to help with the school's ASB general fund. The money raised from this project hasn't been tallied yet but Gilmur-Dillman said it will total in the hundreds of dollars.
The Grandview Middle School Builder's Club was started when Grandview Kiwanis member Pam Horner approached Gilmur-Dillman and said she would like to see a feeder club for key club at the high school. That's all it took.
The builder's club is an international group with clubs all over the world.
"Right now we're writing letters to a builder's club in the Bahamas," Gilmur-Dillman said.
She said the 22 students who make up the builder's club are volunteering continuously. "They've helped with the haunted house here in Grandview during Halloween, the bunny breakfast during Easter and have helped the Salvation Army ring the bell and collect donations," she added.
She said a lot of the kids were shy in the beginning but have really blossomed. "It's fun to see the kids interact with each other," she said. "They set goals for themselves and accomplish them. They're a great bunch of kids."
The club has officers and the meetings are ran according to the Robert's Rules of Order. "They take minutes, have agendas and make and pass motions," Gilmur-Dillman said.
The club's next big project will be a salmon dinner Tuesday, June 6, at the Grandview Fairgrounds. The dinner starts at 6 p.m. and the cost is $12 for adults and $6 for children eight and under.
Folk singer Dan Maher will give a performance at the dinner starting at 7 p.m.