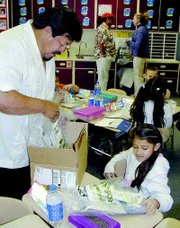 It was Seahawk pandemonium in Bambi Van Gaver's Washington Elementary School first grade classroom Wednesday, as former Seattle kicker Efren Herrera visited the Sunnyside youngsters.
"My name is Efren Herrera and I'm your friend," he told the class during a 10-minute visit with the class, speaking in both Spanish and English.
"Does everybody here know English?" he asked. When that was greeted with a room full of raised hands, Herrera praised the youngsters' head start in bi-lingual learning.
"I couldn't speak English until I was 15," said Herrera, a native of Mexico. "I didn't even know how to say hello."
He continued, "You have a big advantage in knowing English. You should be proud to know two languages."
Herrera's message to the youngsters concluded, "You can go to college, you can do anything. Be proud of who you are and where you're from."
A field goal kicker with the Seahawks in the late 1970's during Seattle's first fledgling years as an NFL expansion team, Herrera is not only loved by long time fans such as Van Gaver, but a whole new generation as well.
That new generation includes Van Gaver's students. Knowing she is an ardent Seahawk fan, the youngsters wrote to the team's headquarters in Kirkland. The result was yesterday's visit with Herrera.
Accompanied by three Seahawk officials, Herrera handed out gift packages to the students, which included Seahawk notebooks and pencils.
Herrera also cheerfully obliged staff and students with autographed photos of himself during his Seahawk days.
His favorite Seahawk moment?
"We were in Oakland playing the Raiders and I kicked a 46-yard field goal with three seconds left to win the game," he instantly recalled. "That game helped show us that we could win."
Today Herrera is sharing that can-do message with young people.
"My message to the kids is that school can be fun and that they can accomplish anything," Herrera said as he headed to Sunnyside High School during a two-day tour of Yakima Valley schools. "If I can make it anyone can."
And school is fun.
Just ask Van Gaver.
"This is an example that school is a fun place," she said in a classroom still buzzing with excitement. "The kids themselves did this with their letters and it just shows that they can make a difference."