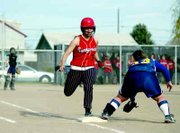 The Sunnyside High School fastpitch team played a doubleheader with Selah yesterday, making up two games that were canceled from April 1.
Selah was all over the Grizzlies as the Lady Vikes won both games' 7-0 and 14-2.
"Selah's an extremely good team," Sunnyside Coach Ralph Mendoza said. "They have a chance to go to State. They're tough and their pitching is phenomenal."
Selah's pitcher in the first game recorded nine strikeouts and only allowed three hits, all singles.
Sam Garcia pitched for Sunnyside and she struggled to silence Selah's bats.
"She didn't do too bad against such a good hitting team," Mendoza said. "Allowing seven runs in a game is OK but when you have no support on the offensive side, you aren't going to be too successful."
Bottom line, he said, was the way the Selah pitching overwhelmed the Grizzlies. "The girls were not aggressive at the plate," he said.
Kassi Guillen hit 1-for-3 at the plate. Maggie Fernandez and Victoria Ramos also were 1-for-3.
In the second game, Sunnyside experienced the same problems. They couldn't handle Selah's pitching and they couldn't stop Selah's bats.
"Selah's bats just came alive in the second game," Mendoza said. "They were hitting the ball very well and once again our bats couldn't keep up."
The Lady Grizzlies again had three hits but gave up 14 hits to Selah.
Marina Martinez hit 1-for-5 at the plate and Guillen was 1-for-4. Jessica Cruz was 1-for-2.
Jessica Espinoza was on the mound for the Grizzlies and stayed in for four and one-third innings. Amanda Guillen came into the game in the fifth inning and pitched two and two-thirds innings.
The Grizzlies (0-4, 3-8) will take on Hanford today, April 27, at 4 p.m. in Sunnyside.
"We got to get the bats going and be more aggressive at the plate," Mendoza said. "Today we need to play better."