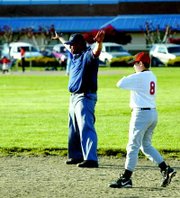 Rudy Ramos has been a baseball umpire for 26 years so it's only fitting he would be mentoring young minds to continue on with the tradition.
Several years ago officials from the now defunct Bambino league asked Ramos to help out with calling some of their games.
The previous umpires had no experience, didn't wear uniforms and were unorganized.
"We went there in our uniforms looking professional and did our job," Ramos remembers.
The folks at the Bambino league were impressed. So were the parents who didn't argue any calls.
After the Bambino league ended, Ramos continued to umpire for the Cal Ripken Baseball League. Because Ramos umpires full-time for the Yakima Valley Umpires Association, this work would sometimes conflict with his chance to be on the little league field.
That's when he asked his son, who was in high school, if he wanted to learn how to ump.
Because this was successful he told his son to ask his friends if they would like to ump, too. They did and now Ramos teaches these kids to be umpires for the Lower Valley Umpire Association.
He starts them training in January and February before baseball season starts. "What they learn can carry over to high school baseball or fastpitch," Ramos said. "I have two kids who can do high school baseball."
The young umpires get a good 16 hours of mechanical training and lots of "on the field" training.
It's also a good way for the kids to make a little spending money. They get $20 per game if they are the home plate umpire and $15 a game for being a base umpire.
Once Cal Ripken baseball is over the young umpires can go on to different leagues in the summer. Notably the junior and senior Babe Ruth leagues and the American Legion Baseball league.
He says they're doing well. He shows up for most of the games to watch. He gives them pointers on what they're doing wrong and how to correct it, what they can do better.
"They're good kids," Ramos said. "A lot of teenagers today get bad reps and these kids are out here doing something good."