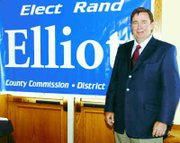 Moxee resident Rand Elliott announced his intention in Sunnyside this morning to run for the #3 District seat for the Yakima County Commission.
Elliott said he is a husband of 33 years and the father of two young adults. He is a two-term member of the East Valley School Board.
He has lived in the Yakima Valley for 33 years and says the reason he is running for the Yakima County Commission is because he cares about Yakima Valley and cares for its future.
He said he has been disturbed over the last several years by decisions the county makes and the course Yakima County appears to be taking.
"We're in a very precarious budget position," he said. "Primarily due to the half-completed justice center."
Elliott said the only way for the justice center to be a functional facility is to finish it. "Yakima County can't afford to do that," he said. "Right now it will cost more to open it than to keep it closed."
Elliott hopes a state or federal agency will buy the center. "They would have the resources to finish it," he adds.
Elliott, who owns and operates a Concord grape business, is a strong supporter of agriculture and small business. "They are the foundation of our Valley," he said. "They deserve all the support they can get from elected officials."
Elliott does not consider himself a politician but a father, a husband, a businessman and a community volunteer. But, he says, he does care for this Valley so when he started worrying about the direction the County was moving, he felt it was his duty to step up and make the county a better place to live.
Elliott is running as a Republican. He explains this by saying he believes solutions to most of our problems are found with ourselves, not within our "village."
"I believe it is the job of elected officials to help people succeed, but not to promise to guarantee their success," he said.
His campaign slogan is "Working Together for a Better Future."
"If I'm elected, that is what I intend to do," he said.