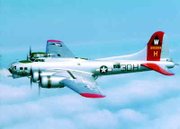 YAKIMA - Aluminum Overcast, the Experimental Aircraft Association's restored B-17 bomber, will be making its 2006 "Keep It Flying" national tour stop in Yakima May 30-31.
The tour will include 28 stops in nine states between March 30 and July 20.
The national B-17 tours have taken place each spring and fall since 1994. Since EAA began the tours of the aircraft known as "The Flying Fortress," tens of thousands of people have experienced this unique airplane through its visits and aircraft ground tours.
"The national tour EAA undertakes each year has become the nation's most popular way to learn about this unique aircraft in an up-close way," said Tom Poberezny, EAA President. "EAA is dedicated to preserving aviation's magnificent heritage and our B-17 tours are a major part of that. This year, we also take great pride in saluting all our nation's veterans through this tour."
At each stop, flight "missions" are available in the airplane, which allow people to take flights in the aircraft.
EAA's Aluminum Overcast was built in 1945, but was delivered to the Army Air Corps too late to see active service in World War II. It was purchased as war surplus for $750 by a private individual, and served in mapping and spraying operations in many countries until a preservation group purchased it in 1978.
The B-17 was donated to the EAA Aviation Foundation in 1981 with the provision of being maintained in air worthy condition.
Aluminum Overcast will be in Seattle May 25-28, Yakima from May 30-31 and Spokane from June 2-4.
photo courtesy of Experimental Aircraft Association
The EAA's B-17 bomber, named Aluminum Overcast, will arrive in Yakima May 30 for a stop on its "Keeping It Alive" tour.