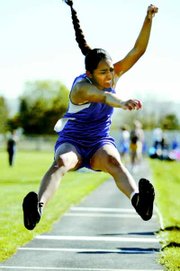 MABTON - Mabton's Invitational track and field meet yesterday was played out under sunny skies with the Lady Vikings winning a second place team trophy with 112 points.
Mabton boys finished with 78 team points for third place in a field of seven teams that included first place Riverside, Lyle in second place and Bickleton in fourth with 66 points. Bickleton's girls earned 24 team points, placing sixth.
Team standout for Mabton was Moises Guitterez with 28 points. His best of three jumps (37-3) put him into third place in the triple jump and he took a first in the 300 intermediate hurdles, leaping them in 44.72.
Guitterez also came through in the 110 high hurdles, finishing second in a time of 18.03. Teammate Luis Quintero was right behind him with 18.91 for a third place. Andrew Venema from Bickleton finished fourth.
Arnold Pineda put a second place on the boards for Mabton, running the 400m in 59.09. In that race, Bickleton's Tyler Jensen came in third.
Mabton's boys 400m relay team placed second in a time of 51.34. Viking Robert Marquez put the shot 41-1 in the best of four throws, placing third.
Eighth grader Junior Hernandez, running the 1,600m for Bickleton, made a time of 5:09.0 for third place. Mabton's Frankie Smith was one disappointed runner with his time of 5:19.97, good for a fourth but not matching his personal record. Smith was running sick, coming off an illness that had kept him out of school for two days. The grueling run took its toll, and he folded up his act for the rest of the runs for which he was scheduled.
Luis Quintero (M) was really working it in the 100m run, but he couldn't push past the leaders from Riverside, who finished in 11:44 and 11:65. He finished in fourth place in 12.03, behind the third place finisher from Lyle.
Mark Prussing of Mabton made a fourth place showing in the javelin with a 120-2.5 toss.
Bickleton's Eric Hess took first in the discus with a toss of 126-4, well ahead of Soap Lake's Dailey Derrick with 118-6 and fellow teammate Robert Marquez whose 107-8 earned him a third place finish for Bickleton.
Cody Loomis, a sophomore, ran the 800m in 2:27.0 for a third place finish for Bickleton. He also took third in the high jump.
The Bickleton boys 4x400 relay team placed second.
In the co-ed relay 4x200 Mabton came in third and Bickleton fourth with Riverside and Lyle taking the top two spots, respectively.
Lady Vikings and Pirates hold their own
The Lady Vikings were led to their second place finish by Daniella Aguilar, Sara Vasquez and Veronica Sustaita.
Vasquez placed first in the 800m race with a time of 2:33.41. A time of 3:00.84 put Bickleton's Danielle Raschko in fourth place.
Mabton's 4x200 girls relay team placed third, finishing in 2:10.60, and took second in the 400 relay. Their runner Daniella Aguilar took a third in the 200m.
The first two places in the girls shot put went to Riverside hurlers and third to Kiera Murphy of Lyle, but Erika Vargas of Mabton placed fourth.
Vanessa Gonzalez scratched in one of her four tries in the javelin, but had a 100-6 toss that put her into first place. Lyle's Karie Doosley wasn't even a close second with 98-5.
Bickleton's Danielle Raschko placed first in the girls 3,200m, a tough race in the heat that saw Lady Viking Veronica Sustaita going all out for third place. Alejandra Molina of Bickleton placed third in the discus.
Vikings Lupita Gomez and Daniella Aguilar took second and third, respectively, in the long jump. Gomez was third in the triple jump with 30-4 3/4 and Aguilar followed her with 30-0 for fourth place. Aguilar also placed second in the 100m race in a time of 13.62, right behind Riverside's M. Hahn, who ran it in 13.28.
Teams competing at the Mabton Invite, in addition to Bickleton and Mabton, were Riverside, Lyle, Klickitat, Soap Lake and Yakima Tribal.
Mabton competes again at Highland May 2, and Bickleton will be at Eisenhower that day.