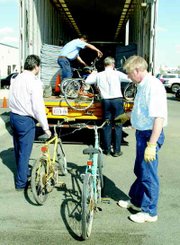 The Sunnyside Daybreak Rotary, Noon Rotary and the Grandview Rotary Clubs came together and with a little help from Sunnyside City Manager Bob Stockwell and Sunnyside Police Chief Ed Radder, were able to collect close to 150 bicycles and several boxes of bicycle parts to donate to African countries.
"One Rotarian had an idea of collecting bikes for Africa," Sunnyside Daybreak Rotary Club President Jeff Norem said. "This individual contacted Rotary International and challenged all the Rotary chapters to collect and send bikes to Africa."
He added these bikes will be for the kids and adults who need them.
The Rotary cubs collected bikes and received a lot from the Law and Justice Center in Sunnyside.
Norem said the Rotary Club found out about a large stock pile of bikes that have been impounded over the years were being stored at the Law and Justice Center. With the help of fellow Rotarian Mark Cook, the two wrote a letter to Radder asking for the bikes. He agreed but the Rotarians had to get permission from Stockwell, who readily agreed.
"Ed's always been supportive of Rotary's efforts and he's community minded," Norem said. "He always keeps Sunnyside's best interests in mind."
He added Stockwell did a great thing for Rotary and the people who will benefit from the bikes in Africa.
Norem said besides the bikes the Rotarians received from the Law and Justice Center, Sunnyside resident George Schanz donated 40 bikes by himself.
"There was a need in a third world country for transportation," Norem said. "Adults need to get to work and the kids need to have smiles on their faces. If you can remember the nostalgia of owning your first bike you'll understand what those kids will be feeling."
The bikes will be sent to Namibia, Ethiopia and Uganda. They should be shipped out next week.