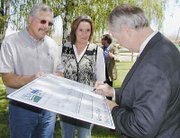 It may not be water into wine, but turning canola seed into fuel, and cattle waste into electricity are modern miracles that brought a federal official to two Lower Valley farms yesterday.
The USDA representatives also brought their pocket book to the tune of more than $500,000 in rural development grants.
The first of the two visits was yesterday morning when Deputy Under Secretary for Rural Development Allan Johnson presented a $499,219 check to Outlook dairy farmer George DeRuyter. The money will help DeRuyter buy an anaerobic digester.
The digester's job will be to help with environmental issues related to the more than 4,000 cattle on his farm.
Specifically, it will break down the waste to eliminate dairy smells from his farm. "If all the farms around him could hook into this system you wouldn't smell the stuff," said Johnson, who traveled from Washington D.C. for yesterday's presentations.
A by-product of the digester will be enough electricity to power 200 homes, noted Philip Eggman, a public information coordinator with USDA.
"George has been interested in doing this for a long time," Eggman said. "It's kind of like Noah building the ark. A lot of people laughed at him when he first started looking into this. But they're not laughing anymore."
A second futuristic venture in the Lower Valley caught the federal government's eye yesterday.
Johnson visited Ted and Pam Durfey's canola operation, Natural Selection Foods, Inc., on Emerald Road. The Durfeys received a $99,500 rural development grant for a seed crusher to convert canola into bio-diesel fuel.
"With gasoline hitting $3 a gallon we need alternative fuels," Johnson said. "We need to break our addiction to oil."
The Port of Sunnyside worked with the Durfeys in obtaining the grant, and sees canola as a promising new crop for Lower Valley farmers, noted Port Commission Chair Arnold Martin.
Durfey said the grant will help with ongoing equipment purchases, with a view towards putting out a commercial bio-diesel fuel.
"These are both state-of-the-art projects," Johnson said of DeRuyter and Durfey. "We think they are both unique and good for the environment."