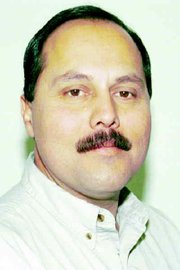 MABTON - One of Raul Almeida's final activities as Mabton's police chief was helping the city host last night's National Night Out kick-off party for Sunnyside, Granger, Grandview and Mabton.
Almeida announced last Thursday, July 27, that he was retiring as Mabton's part-time police chief effective today, Aug. 1.
Almeida had been with the Mabton Police Department since 1989 and was promoted to Chief in May 2000, said City Administrator Ildia Jackson.
In a statement the city of Mabton issued this past Friday, Almeida said he felt the National Night Out event-which focuses on crime prevention-"was an appropriate time to retire."
Almeida's career in law enforcement spans 27 years. While serving as Mabton's part-time police chief, Almeida has served as a full time captain for the Hanford patrol.
In the press statement, Almeida said he will work in law enforcement for three more years in the new capacity as the program manager for the Hanford Patrol's emergency vehicle operations course.
"I just don't know how long I could have kept working all those long hours," he stated of trying to work two jobs.
"While I look forward to enjoying my retirement and only focusing on one job, I will miss working with the Mabton police officers," Almeida said in the press release.
Jackson said the city has not made a final decision on whether Almeida's replacement will be a part-time or full-time chief. "I'm sure there will be discussion on that," she said.
Also undetermined is whether Mabton will name an interim police chief until a new hire is made.
Jackson said Mabton's highest ranking police official at this point is Officer Mike Britton, but no decision has been made whether he would be named an interim chief.
Jackson, who has been with the city since 1993, praised Almeida as a dedicated police chief. "There's been a real good working relationship," she said. "He's brought in a lot of grant programs. He's going to be missed."