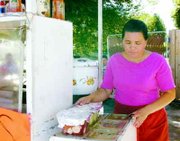 She was 28, pregnant, a mother of six children and an abandoned wife.
Mary Nellie faced those odds three years ago in Nuevo Vicente Guerrero in the state of Chapa in Mexico, a state so far south it bumps up against Guatamala.
When her husband left her for his pregnant girlfriend, she tried to find work to feed her family, but the only job she could pin down was going door-to-door one day a week to collect payments from people who had purchased on the layaway plan. It paid her the equivalent of 80 cents.
"Often, my children were hungry," she said.
Enough was enough, and Nellie left her children with her mother and came north to the land of opportunity-far north, to the United States.
"I didn't have anything when I came. I lived in Atlanta, Georgia. It was a very large city, but, being pregnant, I couldn't find any work," said Nellie. "I met a very nice nurse who helped me with housing and food. Another lady helped me find a temporary job doing housework. It was very difficult during that time for my mother. The little money I made I sent to my mother to help out with the children. The young one was born in Atlanta. I stayed there for nine months and then came to Sunnyside three years ago."
Sunnyside was a sunny change for Nellie.
She met Antonio and Dolores Espino, who own a taco wagon on Yakima Valley Highway. "I started working for them and they liked me and I've been with them ever since," said Nellie.
She works from 9 a.m. to 9 p.m. seven days a week and longer when weekends bring in the late-night crowd. By living a frugal lifestyle, she has saved enough in three years to buy a $7,000 home for her mother and children she supports in Mexico. She is still deciding how to reunite her family, whether in the states or in Mexico.
Nellie brought her eldest son, 12-year-old Ubelmar, to Sunnyside a year ago to share a rented mobile home with her and 3-year-old Phillipe, for whom she provides private daycare. Last week, Ubelmar finished summer school, where he was polishing his English skills. He'll be a seventh grader at Harrison Middle School in September.
She regrets that Ubelmar feels lonely here because he misses his two sisters and three little brothers in Chapa and that, because she works so much, she can't take him places. But Nellie keeps her eye on the bigger picture.
"In Mexico I didn't have a home or anything. Some days my children were hungry and went to sleep hungry. We're sacrificing a lot. We don't go out or go anywhere. I don't buy very much clothing, only what I need, but I work with happiness in my heart because I know my children are well-fed, have a home and all are going to school. That keeps me going."