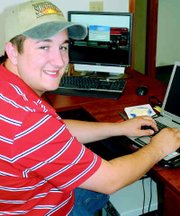 Printers that don't print and stubborn software are just some of the experiences Ryan Austin encounters every day as an information technology assistant for the city of Sunnyside.
Austin, 20, began working for the city in February of this year, and got his start in technology while still a student at Prosser High School.
For three years he participated in a program at the school that provided hands-on training and experience in troubleshooting computers.
Austin moved on to an internship with the Benton REA office in Prosser, which led to his first job in information technology when the utility hired him. He has also supplemented his training with a program that helped him become a certified technician.
A lifelong resident of Prosser, Austin said he first became interested in computers when his family obtained their first one in 1993.
"I've always been one of those people that likes to take things apart and put them back together again," he said.
The decision to work for Sunnyside was made, he said, because it provided expanded opportunities in the information technology field.
Austin said he also likes his job because it allows him to interact with other people. On any given day, he may be at the city police or fire department, or at the community center, for example, helping to maintain and update the city's computer software programs.
Looking ahead, Austin said he'd like to acquire more training at either Yakima Valley Community College or Columbia Basin College in web design. Working for Sunnyside, he added, is providing some experience in web design as he is helping the city undertake a project in developing a new website.
Even if, or when, the time comes to take college courses, Austin said he plans to continue his full time job at Sunnyside. "I like to keep busy," he said.
He also keeps busy in his off hours as a volunteer firefighter for the Prosser Fire Department.
As a result, not only does Austin put out "fires" during the work day to help keep the city's computers humming, he fights real fires with the fire department.