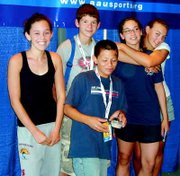 by Audra Vasquez
NORFOLK, VA. - "Good-bye Washington, hello Oregon!"
This is the Knee family's saying every time they cross over the bridge from Washington into Oregon. We got to say it as we drove to the Portland, Ore. airport this past Sunday enroute to flying to the 2006 AAU Jr. Olympics swim meet.
The group I'm with consists of Sunnyside Sharks teammates Jacob Hollander, Cristian Vargas, Alyssa Martin, Toni Marie Castillo, Katie Knee and Lyndsee Anderson. I joined them and their families on their trip to Norfolk, Va.
Leaving Portland at 10:30 p.m., we finally arrived in Maryland, where the plane's captain said it was "clear skies" and would be about 80 degrees. We arrived at 6 in the morning (Monday). It looked like we were in a fog the minute we stepped out of the airport. Talk about "clear skies!"
After we picked up the rental vans we drove across state lines to Virginia Beach, Va. to register for the games. On the drive we started checking off license plates to see if we could get all 50 states (we have 32). After registering we got a quite bite to eat and drove over to see the pool at the Newport Community Aquatics Center.
Finally, sleep deprived and sick with the humidity, we checked into our hotel room at Best Western and crashed for the night. After all, we had to get up at 6 the next morning for the team's warm-ups. Everyone was exhausted, but glad we had accomplished all we needed to.
If you want to check out the swimmers' stats at the Jr. Olympics, just google AAU 2006 Junior Olympics and click on the first link. Wish them good luck!