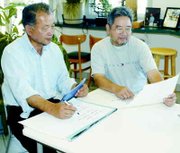 The Texaco gas station located at 31501 Yakima Valley Hwy., between Sunnyview Park and Black Rock Creek Golf Course, is about to offer a different type of cuisine, Japanese.
The past two years the mini-mart has only been a gas station and convenience store but owner Toshi Owa is changing that.
"I have been thinking of opening a teriyaki restaurant for a while now," Owa said. "I just didn't have the manpower to do it."
That changed recently when Owa was reunited with an old friend, Kiyoji Miyamoto.
Both Owa and Miyamoto came to the United States 38 years ago as agriculture training program students. They lived in Moses Lake. They lost touch over the years and it wasn't until a lucky incident happened that they got in touch with each other again.
Miyamoto has been in the restaurant business in Moses Lake for 22 years. He knew Tom Ford, a Faremer Bros. salesman who sold products to Miyamoto. Ford also provides products to Owa here in Sunnyside and that's how they both met up again.
"It's probably the greatest thing that's ever happened to us," Owa said about getting the chance to work with his old friend.
Together they are going to turn one side of the convenience store into a Japanese restaurant. It is open now, however, only for breakfast, and there is nothing Japanese about the breakfast they serve.
"It's a typical traditional American breakfast," Miyamoto said.
The pair plan on offering lunch by Wednesday, Aug. 9, and will have a full menu by the middle of August.
The plan for Mizuki, the name of the restaurant, is to blend east and west. "It's where east will meet west," Miyamoto promised. "The dishes will be a little different."
The two want to create Japanese food the way they were taught when growing up in Japan as kids. They are very proud of their teriyaki sauce. "It's our secret," Miyamoto said. "People will be able to taste the difference."
They also plan on selling beer and wine to eating customers. They will partition off a section for people to come in and have a beer. "People can stop in after work, have a beer and watch sports on the TV, and maybe eat some food," Miyamoto said. "We want to make it not only an eating place or a to-go place, but a place to relax."
Breakfast is served from 6 to 9 a.m. and lunch will be served from 11 a.m. to 2 p.m. Teriyaki beef, pork or chicken will be available. Also offered will be non-breaded chicken and breaded chicken. Fried rice will be available too, as well as stir-fried noodles and the classic stir-fry. Side dishes like pot stickers and Niku-Dango, meat balls on a shis-ka-bob, served with wasabi and soy sauce, should be favorites.
Dinner will be served from 5 to 9 p.m. and will feature the same meat but the plates will come with rice, veggies, miso soup and cabbage. Salmon and prawns will also be featured. The prawns can be ordered panko style. This is like tempura only healthier. "It won't allow as much grease in," Miyamoto explained.
Eventually the two would like to expand Mizuki into other areas if this venture proves successful.