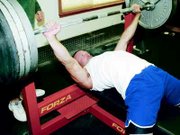 Downstairs next to his basement gym, Joe Luther has a room filled with trophies. The trophies represent the recognition Luther has received for his weight lifting efforts for the past 14 years. There are trophies, plaques and documents all giving him accolades on his career but there is one missing, a trophy with the words "Mr. Olympia" on it.
Luther is hoping to add this one at the end of September when he competes in the Mr. Olympia power lifting competition, Sept. 29-30, in Las Vegas at the Convention Center.
"I'm real excited about it," he said of the competition. "I've never been to a raw meet. I'll finally be able to see what the guys can do without the bench shirt."
Luther will be competing with three other guys in the middle weight men's open division, Joe Smith and Joe Maza. A bench shirt is a shirt worn by the lifter that helps support their arms when they bench. The Mr. Olympia competition will be raw, which means the lifters can not wear bench shirts. The only support they will have is from their spotters. Conrad Kinsey will be spotting for Luther.
Luther received his invitation to the event because he is ranked in the top five in the nation. He is number five and two other lifters in front of him decided not to compete, possibly because it is a raw meet.
Wearing a bench shirt, Luther holds the world record in the bench for the open class, according to the World Association of Bench Pressers and Dead Lifters (WABPDL). He set that record last March with a lift of 480.6 pounds. He also holds the state and national records as well. His personal best is 495 pounds.
Luther has never earned any money in all the competitions and events he's attended. That might all change at the Mr. Olympia event.
If Luther wins the event, he will receive $750. If he can lift more than 400 pounds, he'll earn an extra $250. If he manages to lift more than 450 pounds he'll pocket an extra $500. If Luther breaks his personal best and lifts over 500 pounds, he'll net another $1,000. There is also a prize for the person who lifts the most weight compared to their body weight. That prize is worth $750.
Luther is hoping to put up numbers in the 420 to 430 pound range.
Also while Luther is in Las Vegas, he will participate in a documentary being filmed about power lifters. "Power lifting has never has this much publicity," he said of the movie and the competition.
He hasn't changed his routine too much for this event. "I'm being a little more careful," he said. "I'm trying not to overtrain."
Still, the world record holder in the bench press should do fine and likes his chances at the Mr. Olympia event.
"As long as I stay healthy, I should have it," he predicted.