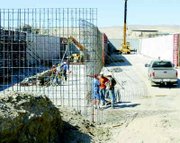 OUTLOOK - Very soon the anaerobic digester DeRuyter and Sons Dairy is building will be up and running. The project, being built by the Andgar Corporation, started in April and should be completed sometime in October.
An anaerobic digester breaks down organic matter by anaerobic organisms in environments lacking oxygen. Anaerobic digesters use the natural process of anaerobic digestion to treat waste, produce renewable energy or both.
According to Dan DeRuyter, a partner at DeRuyter and Sons Dairy, the new anaerobic digester being built will do both.
DeRuyter will use the manure from his dairy cows in the digester to make bio-gas, organic material and liquid fertilizer.
The manure will be turned into energy using a mesophilic process. This takes place at an optimal temperature of 101 degrees. The amount of time the waste spends in the digester is approximately 21 days.
According to wikipedia.org, while the manure is in the digester, it will go through four stages of digestion. The first stage is hydrolysis, where complex organic molecules are broken down into simple sugars, amino acids and fatty acids with the addition of hydroxyl groups. The second stage is acidogenesis. This is where a further breakdown occurs producing ammonia, carbon dioxide and hydrogen sulfide.
The third stage is acetogenesis where the products of acidogenesis are further digested to produce products such as carbon dioxide, hydrogen and mainly acetates, although higher-molecular-weight organic salts are also produced.
The fourth and final stage is methanogenesis where methane, carbon dioxide and water are produced.
From this process three principal by-products are created. Biogas will be one. This is a mixture of methane and carbon dioxide. Biogas can be burned to produce electricity. The DeRuyters will be using two diesel engines that have been converted to use methane gas to create the electricity.
"One hundred percent of the energy we make will be sold to PP&L," DeRuyter said. He said they should produce about 1,200 KWH per day, enough to power roughly 200 homes.
The gas is considered an environmentally friendly energy source. During the process gas is not released directly into the atmosphere. Plus, the carbon comes from an organic source and does not add to concentrations in the air.
The second by-product that will be produced by the digester is acidogenic, a stable organic material that resembles domestic compost. This product can be used as compost or to make low grade building products such as fiberboard.
The third by-product is a liquid that is high in nutrients and can be used as a fertilizer.
DeRutyer explained his dairy was building the digester to, "...try to manage our manure a little better. Hopefully in the process we can make a little money as well."
The digester will have a price tag of about $4 million. The DeRutyers are funding the project by securing a renewable energy grant from the federal government, getting a state loan and also borrowing from bonds recently passed. They are using the patented design by GHD, Inc.