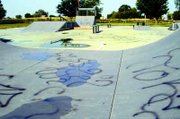 Opened just this summer, the SunnyView Skate Park was marred by graffiti some time last night.
The skate park was designed by the local skating community and was the result of years of interest and fund raising.
Sunnyside Police Officer Melissa Rodriguez said black spray paint was used in the graffiti attack, which is believed to be gang-related.
"I' haven't seen this before," Rodriguez said of the tag symbols, or marks, left behind. "This is the real thing."
Rodriguez said city park crews will clean up the graffiti and the skate park will remain open.
An investigation is underway, Rodriguez confirmed, which includes recording the gang markings left behind at the park and comparing them with a database of markings left by known gang members.
Anyone seeing graffiti or someone painting graffiti is encouraged to call the Sunnyside Police Department at 836-6200.