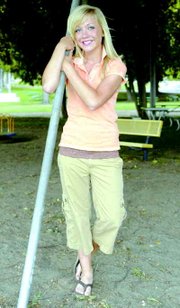 One of Taylor Gardner's talents is motivating people. That's why the 16-year-old has been a cheerleader for the last two years and is entering her third year as a co-captain for the Sunnyside Christian High School cheer squad.
"I've always wanted to be a cheerleader," Gardner said. "My mom was one and so was my grandma."
When the Sunnyside Christian High School girls and boys basketball teams went to the state competition, the team's cheer squads were also judged. They were ranked the best 'B' league squad at the championships.
Asked if that made her feel good, she replied, "oh yeah." The cheer squad practices almost every day during the school year and twice a week during the summer. It's a lot of work.
Gardner is hoping to bring her hard work ethic and motivational skills to the Miss Sunnyside court.
"I've been going to the Miss Sunnyside pageants since I was a little girl," she explained. "I've always thought of the court and Miss Sunnyside as role models. I would be honored to be a role model for the other little girls in our community."
She feels she would be a good choice for Miss Sunnyside because of her great leadership qualities. "I would be a good representation to our community when we go to other communities with our float," she said.
Gardner wants to work with the Lower Valley Crisis Center for her service project. She would like to do various fund-raisers to raise money for the organization.
"I chose this project because it's always been my passion to work with children from abused homes," she said. "It would be a great light for me to see how this organization works with the children."
She has read some books on the subject and finds it's something very close to her heart. She would like to become a child psychologist after her education is complete. She hasn't figured out which university to attend yet but wants to stay in the state of Washington.
She's a pretty good student, getting mostly As and Bs. "I love school, period," she enthused. "I'm looking forward to taking psychology classes next year." One of her favorite classes last year was church history.
Besides being a cheerleader at school, Gardner is involved with the high school choir, the yearbook committee and runs track on the Sunnyside High School team. On the track team she does sprints and anything else Coach Bryson tells her to do. She competes in the 100, 200 and 400 meter sprints and also is involved with the relay team.
Her hobbies include boating. "I like to tube behind boats," she said. "Also wake boarding, I'm pretty good at wake boarding." She usually goes out with her family on the weekends.
She also likes to run. "I try to run once a day around the hill," Gardner said.
Spending time with friends and family also takes up some of her free time. She likes to cook and read and is currently reading Dicey Song, a novel about four kids abandoned by their mother.
She likes watching movies but the scarier they are, the better. And, she loves living in the valley, citing the "...smell of the vineyards, changes in the season and how we always have fresh produce from the farms."
Gardner enjoys public speaking and for her talent in the pageant, she will give a humorous monologue. She was pretty tight-lipped about the monologue, saying it's a work in progress.
She admits planning for the pageant can be stressful at times.
"It's a lot of work," she explains. "We practice twice a week for about two hours. I love all the girls. Everyone is really sweet."
Gardner's role model, she said, is God. "He is my strength and my motivation," she said.