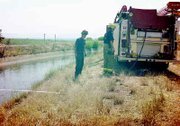 A combine working in a wheat field at 2882 SLI Road north of Sunnyside ignited a fire that blazed over 300 acres of wheat and natural cover Sunday, threatening four homes.
The fire, which started at 1:57 p.m., was finally completely extinguished at 6:19 p.m. through the combined efforts of firefighters and local farmers.
Yakima County Fire District #5 responded, sending 39 firefighters and a convoy of tenders, engines and grass rigs from its stations in Sunnyside, Outlook, Grandview and Wapato.
"They also sent a bulldozer and a track, which can fight with water and also be used if they have to back-fire," a dispatcher from Fire District #5 said this morning.
Firefighters did light a fire break 20 to 30 feet in back of the Fred Broersma home at 2871 SLI Road to prevent the fire from overtaking it.
Anderson Ranches put a dozer and a tractor with a disc into action to protect the Rick Anderson home and prevent the spread of fire.
A Sunnyside unit stood by at the nearby canal, pumping water from the canal to reload tenders throughout the fire.
Prosser Fire District 3 also responded to the blaze, sending a grass rig, an engine and a tender.
At 5 p.m. the Prosser firefighters were toned out to another fire on McCreadie Road.
"We had three rigs up on Sli Road and we had to cut 'em loose to come back to this one," said Prosser Fire Chief Doug Merritt.
The Prosser firefighters and their equipment from the wheat field fire were joined by other firefighters in Prosser to extinguish a fire in a garage full of lumber.
"That fire was started by a barbecue under low hanging eaves," said Merritt. "It was fully involved when our guys got there, but no one was injured and there was no damage to the home. A semi truck trailer parked behind the garage did receive some damage."
Merritt said no time was lost by his crew in reaching the Prosser fire because the fire on McCreadie Road was not that far from the wheat field fire.