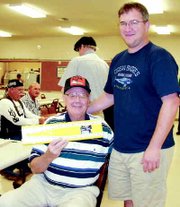 The spirit at the "Fifth Summer Classic" was one of friendly and sometimes joking competition as people from all around the country gathered in Sunnyside at El Valle Restaurant to play three events on Thursday and Friday, and at the Fraternal Order of Eagles lodge Friday afternoon through Sunday afternoon.
Cribbage players from as far away as Wisconsin, Montana and Canada competed in several tournaments, in which they had the opportunity to win money and earn points.
Many outstanding hands were had by the players, but two were particularly special. Lowaina Pruett had a 28-hand, which is the second best hand one can get in cribbage, 29 being the best. The odds of receiving a 29-hand are 1:257,000 according to Paul Hatcher, the high qualifier for the main event.
The special winner for Thursday night was Sue Pisha of Portland.
Jack Moritzky was the winner for the Early Birds tournament on Friday.
The first place winner for the Main playoffs on Friday was Ed Weilep of Spokane. Nancy Lorenz of Salem, Ore. took second place honors.
The winners of the consolation tournament for Friday were Frank Bayne of Yakima in first place and Egon Koch of British Columbia, Canada placed second.
Winner of the Friday night high rollers tournament was Gerry Klein. The doubles tournament winners were Nancy Lorenz and Sue Pisha.
Saturday night brought much excitement as Phyllis Roderick placed first in the nine-game event.
Margery Clark of Bend, Ore. was the tournament champion, and John Furler, who hails from Tigard, Ore., placed second. Bob Julian from Wisconsin took third place honors, while Sue Pisha placed fourth.
The consolation champions for Sunday's tournament were Tim Julkowski from Portland in first place, Arnie Anderson of British Columbia in second, Mary Gladish from Concord, Calif. placed third and Ed Weilep took fourth place honors.
Vice president of operations of the American Cribbage Congress and four time national champion, Bob Julian of Wisconsin, was in attendance at the tournament. He was the second high qualifier for the tournament on Sunday.
Julian began playing when he was seven years old and has been playing cribbage for 79 years. His father and uncle taught him how to play and he has passed the tradition on to his son and four grandsons. "There will be four generations playing the cribbage tournament in Green Bay this year," said Julian. Green Bay is one of the oldest cribbage tournaments, this year being it's 26 annual tournament, and Julian has played in all.
He travels to 40 tournaments a year around the country, and he notes that there are several clubs all over the world, they even have a club in Antarctica. There are about 170 tournaments held a year, which is three a week, said Julian.
He has been vice president for eight years and seen the membership of the organization grow from 300 members in 1980 to 7,200 members at present count.
The next tournaments he will attend are in Battle Creek, Michigan, California and Tacoma. He flies to tournaments 10 to 15 times a year.