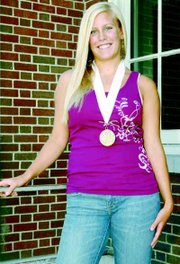 GRANDVIEW- Calling it a natural progression to move onto the state competition, Grandview's Junior Miss, Allison Grow, will join 20 other high school seniors in competing for the title of Washington's Junior Miss.
"I'm very excited," she said of the opportunity. "It seemed to sneak up on me pretty fast this summer."
Grow has been busy this summer with her Grandview Junior Miss duties so she can be forgiven if the state competition snuck up on her.
Grow and her Grandview co-finalists have been making the circuit of parades this summer. They've received four awards this year for their float and are waiting on word from their last parade in Hermiston.
"Things have been going well," Grow said. "We'll be attending parades every weekend in August and September."
Grow has enjoyed her reign since she was named Grandview's Junior Miss last April. "I've gotten the chance to meet more people from other communities," she explained. "I've learned how fortunate our court is to have so much support from the community. Also, I've grown closer to my community through representing them in ribbon cutting ceremonies and parades."
One parade she won't be attending unfortunately, is the Grandview parade, Thursday, Aug. 10. Grow will be in Pullman representing Grandview in the Washington Junior Miss program.
She will arrive in Pullman on Wednesday and stay three days with a host family. There, she will not be able to communicate with anyone by phone or e-mail, only by postal mail.
She can be contacted at:
Allison Grow
c/o Bob & Sheryl Bashaw
1130 SW Campus View Dr.
Pullman, Wa. 99163.
Grow said the isolation is to help the girls grow and interact with each other. The program is scheduled for Saturday, Aug. 12, at 7 p.m., at the Beasley Performing Arts Coliseum on the Washington State University campus in Pullman.
If Grow were to win, she would be named Washington's Junior Miss and then would be eligible for the America's Junior Miss program held in Mobile, Ala. every year.
She would continue to visit different schools and promote the Be-Your-Best-Self program.
What does she think her chances are?
"One out of 21," she said. "I think all these girls were chosen for the same reasons I was. They're well-rounded in academics, fitness, community service and overall character."
Grow and the other contestants will compete for more than $10,500 in scholarship money. They will be judged in scholarship, talent, self-expression, fitness and judge interviews.
Grow is a big believer in the Junior Miss program because the base of its program is promoting all-around excellence in academics, physical fitness, character and community.
"It's also about setting goals and reaching for those goals," she added. "It's about being a role model and to always be doing, and being, your best."
She's looking forward to the state experience and being with girls who are all driven and proud to be a Junior Miss.
"Also, to do and be my best and to represent Grandview well," she said.