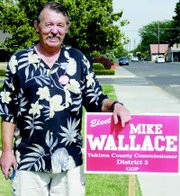 GRANDVIEW - Mike Wallace has a very straight-forward and honest approach to meeting people in the community.
Instead of having a flashy campaign, the Yakima County Commissioner District 3 candidate spends a large chunk of his time ringing door bells and speaking face to face with voters about issues that are important to them. He has visited more than 1,000 homes in the county in order for people to put a face to the name they see on the campaign signs.
"I've learned more by ringing door bells. It does not matter where people live, they have a lot of the same issues," said Wallace at a barbecue this past Sunday at Grandview's Dykstra House.
So far, the Grandview man has been met with a positive response from the people he has met. One man even offered up his services as a translator for Wallace.
His campaign is focused on getting the criminal justice system on track and tackling the budget. According to Wallace, more than 75 percent of the land in the county is not taxed, so the burden of maintaining the land falls on the shoulders of about 25 percent of the populace in the county.
Wallace has lived in the valley for 35 years and runs Hinzerling Winery. He has been an active member in community service organizations throughout the years. He said he chose to run for the county commission seat to provide geographic diversity in commissioners.