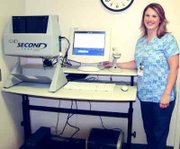 Sunnyside Community Hospital has recently installed a new "Second Look"! computer-aided detection system to help in the fight against breast cancer.
According to the American Cancer Society, breast cancer is the leading cause of death among women ages 35-54 in the United States.
In 2001 alone, 192,200 new invasive cases of breast cancer were expected in the U.S. with approximately 40,200 deaths. Sunnyside Community Hospital does 2,350 mammograms a year.
Second Look, developed by iCAD, Inc., is a sophisticated screening tool that assists radiologists by providing a computerized second review of mammograms and is approved for both screening and diagnostic use.
The review process draws their attention to potential areas of concern that may indicate the presence of cancer.
It has been well documented that early detection is the key to breast cancer survival. Coleen Goulet, R.T.(R)(M) Imaging Manager, said, "Second Look is designed to improve the process of mammography screening by calling to attention to subtle types of changes in tissue that may indicate the presence of cancer. It provides a valuable second read that increases the chances of catching breast cancer."
Although traditional mammography has proven to be a powerful tool in the fight against breast cancer, accurate readings of mammograms can sometimes be difficult. Even the most trained eye can miss subtle variations in tissue that may be of concern. The result is that 20 to 30 percent of cancers can go undetected during the screening process.
During U.S. clinical trials, of which approximately 9,000 patients performed at 18 leading medical institutions across the United States, data has shown that 26.2 percent of cancers missed by a radiologist would be detected with the use of Second Look.
Once a patient has had their annual mammogram, the patient information is entered into the Second Look system using a bar code reader or interactive touch screen.
Next, the patient's mammogram is fed into the system and the software analyzes it using proprietary algorithms. Second Look then produces a laser-printed report, the Mammagraph, which highlights potential areas of concern with Massmarks and Calcmarks.
After viewing the original mammogram, the radiologist uses the Mammagraph to assist with their interpretation.
When it comes to patient care, one of Second Look's true benefits is that it requires no additional procedures. Goulet explains, "With the use of this technology, our patients don't have to go through additional procedures or testing. A standard mammogram is all that is required to perform CAD on mammograms."
"We're excited to be offering Second Look technology at Sunnyside Community Hospital," Goulet said.
For more information about Second Look or mammography screening, contact the Sunnyside Community Hospital at (509) 837-1323.