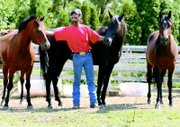 GRANDVIEW - The Yakima Valley Fair and Rodeo will have a new restroom building for this year's four-day extravaganza.
To help fund the completion of the project, several donated animals will be auctioned off at the Livestock Auction taking place Saturday, Aug. 12. All of the money raised by the auctioning of the donated animals will be used to complete the restrooms.
A market hog donated by Clint and Marsha Graf was raised for them by Clinton Schloss and will be auctioned off. The feed for the animal was donated by Gary and Sherrie Schloss.
Three horses were donated by Stagetim Stables, which include a four-year-old Purebred Arab gelding trained in both English and Western riding, a two-year-old halter-broke Morab gelding that can be registered three ways and a Mogan gelding that is seven years old and trained in English and Western riding.
Nearing completion, the restroom facility is more than 1,100 square feet in size and is valued at $120,000. The livestock area building will have eight showers, eight toilets, six sinks and two seven-foot counters.
Volunteers are working hard to put the finishing touches on the restrooms for the fair, which will be held Aug. 9-12.
The building was constructed using donated money, materials and hundreds of volunteer hours.