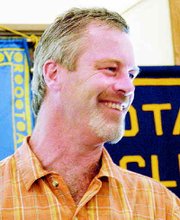 Twenty-one years ago New Vision/Yakima County Development Association was established in the Yakima Valley to promote establishment of new business and expand businesses already in operation.
"All kinds of things have happened that I don't believe would have happened without his facilitating," said Gary Christensen, owner of R.E. Powell and Distributing in Grandview, as he introduced Dave McFadden to the Sunnyside Noon Rotary club yesterday (Monday).
McFadden, who has been president of New Vision since 1987 and was Monday's guest speaker, gave the Rotarians a run-down on New Vision's goals for Yakima Valley.
He said the ability of New Vision to give potential businesses the three things they want when selecting a locale in which to settle and grow is what is bringing nibbles from five companies at the present time.
"Companies are looking for predictability, timeliness and customer service," McFadden claimed.
Among the current lookers are a garment sports wear manufacturer, a food processing company now doing business in the Puget Sound area, a Canadian food processing company that is comparing U.S. locales to those in Canada, an ethanol facility and a Seattle-based aerospace company.
McFadden said these companies want to know the same things Wal-Mart wanted to know before it chose Grandview as the site for its distribution center.
The leading question is whether companies will have support as they go through the steps it takes to make a vision become a business reality.
"And they want to know how long it will take to get the job done and if the work force is available," said McFadden. "And we want them to be met with a good attitude. Developers or businesses shouldn't be treated as adversaries."
No welcoming touch seems to be too small for New Vision.
McFadden related a story about the day he and Christensen, who was chairman of New Vision at the time, met Wal-Mart executives at the airport on one of their location scouting trips for their distribution center.
Christensen, McFadden said, felt the executives should be met with cold drinks. "I told him, hey, they're coming in on a corporate jet. They'll be every drink you can think of on board."
But Christensen persevered, hastily gerry-rigging a cardboard box as a cooler, and packed it with drinks.
"They came off that jet parched," said McFadden, giving Christensen full credit for making a good first impression on a group that finally chose Grandview as the site for a center that opened numerous jobs in the Lower Valley.
McFadden said a permit guarantee agreement New Vision entered into with the City of Yakima and Yakima County has gone a long way in the past five years to expedite the permit process for new and existing businesses.
"We did not feel we were doing as good a job as we could," said McFadden of the county and city.
Now the city and county guarantee residential permits will be issued within three weeks and commercial permits in eight weeks.
"And the guarantee said that if those time lines weren't met, a refund would be issued," said McFadden.
"No refunds have been issued in five years," he said.
McFadden said New Vision stands ready to share the ins and outs of the permit agreement with the City of Sunnyside, and extended the offer a year ago to the Sunnyside Economic Development Association.
"I have not got a formal response from Sunnyside," said McFadden, but noted that the offer was never made directly to city officials.
He emphasized that the cities of Sunnyside, Grandview, Mabton, Wapato and Toppenish supply financial support that helps New Vision wield its "magical tool" that has often provided the missing ingredient a company may need to locate in the Valley.
Support from New Vision comes one-third from public agencies and two-thirds from the private sector with "a nickel here and a nickel there from the state", according to McFadden.
Enough poured into a management program started by New Vision, Supporting Investments in Economic Diversification (SIED), to allow it to contribute a million dollars for water and sewer lines on Midvale Road in a project the Sunnyside Port District took on that improved the two-lane road to three lanes.
"And it turned hundreds of acres into light industry property," said McFadden.
A more recent project supported by SIED is a truck stop at the Granger I-5 interchange, for which SIED contributed $500,000 toward road, water and sewer improvements.
The main focus of New Vision is to produce a pro-business climate with a toolbox full of incentives and resources for growing business.
That means helping businesses find a nest in which they can succeed and grow. And sometimes that nest has to be prepared before it's offered to a company looking to relocate.
"You might show them a place and they'd say 'This is nice, but it looks like a cow pasture to me'. It's the infrastructure and it's the work force that bring development here," said McFadden.
He said the communities in the Valley and Yakima Valley Community College, which is prepared to offer classes to train potential employees in needed skills, are presenting "a common front" that makes the Valley a viable choice for businesses.