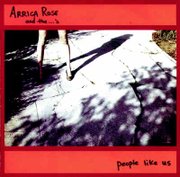 It's been a while since I've heard new music that I immediately liked. The last two bands I latched onto this quickly was the White Stripes and Modest Mouse. I now have another one.
Los Angeles based Arrica Rose and the Dot, Dot, Dot's have recently released their first full-length CD, People Like Us. It's a 12-song effort filled with poetry disguised as lyrics and music with a country/blues/bluegrass/rock sound.
The band consists of Arrica Rose on vocals and guitar, Abby Kincaid on lead guitar, Ryan Brown on drums and Will Golden playing bass. The CD also features Jason Achilles Mezilis on guitar, keyboard, organ and back-up vocals, and Craig Shumacher on harmonica.
The first song, Cats & Plants, starts out beautifully. Cats and plants they don't talk back and there's never an end to the money we spend, is the first lines of the song. It goes on with thought-provoking lyrics and features a very catchy chorus. The song would fit in nicely as the soundtrack to a family starting their two-week summer vacation. It's just a fun song.
Rose's voice sounds strangely familiar but different, too. The Thais have a saying for this, "Same same, but different." If I was forced to come up with a description I would say her voice falls somewhere in between Edie Brickell and Amie Mann. Her song writing ability, though, reminds me of Bob Dylan, where the songs could be poems if the music was stripped away.
It's Good to Be What You're Not is a good example of that song writing. It's a song about dreams and material things, motivation, jobs and just being sick and tired of being sick and tired.
Lover, a song about lost love, ends the album. She writes, Oh, my lover has passed my by. Now there's another standing by his side. And he'll dress her up in my memory. He'll dress her up in what used to be.
I can see this band playing in any setting, a coffee house, a small bar or on tour with the Further Festival. The best thing about this band is you enjoy the song and look forward to the next one.
Rose lists some of her influences as Bob Dylan, Billie Holiday, Fugazi, Elliott Smith and Patti Smith.
Arrica Rose and Dot, Dot Dot's are on their west coast tour at the moment and will be playing in Seattle this Friday, Aug. 11, at the Sunset Tavern, at 7 p.m. They then travel to Portland and perform at The Green Room at 9:30 p.m. on Saturday, Aug. 12. Monday, Aug. 14, Arrica Rose and the Dot, Dot, Dot's will be back in Washington, this time in Tacoma, where they will perform at Jazzbones, at 8 p.m.