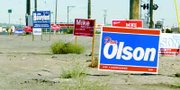 With the 2006 elections just months away, political candidates are starting to put out their campaign signs.
It is common to see political campaign signs on the side of the road and in people's yards but there are rules to where they can be placed and how big they can be.
"We had some phone calls from people asking why political signs are in the city right of way," Bill Eikenbery, a code enforcement officer for the city of Sunnyside, said. "We'll be going out in the next couple of days to remove them."
The city ordinance concerning political campaign signs states there is no need for a permit, however, political signs or posters must not be larger than 32 square feet. At no time can a sign be posted or attached to telephone poles, power poles or other utility facilities, or in any public rights-of-way.
The rights-of-way on city streets and highways are all different, ranging from 25 feet to 80 feet from the side of the asphalt.
"People should call and ask if they have any questions where their signs can be," Eikenbery said.
Each sign must be maintained free of damage or defacement and it is the responsibility of the candidate or campaign committee to remove any damaged or defaced signs within 24 hours.
All political signs must be removed within 10 days after the election. The candidate or committee for whom the sign is displayed will be responsible for its removal.
Unlawful signs on public streets, sidewalks, rights-of-way, power poles, telephone poles, street signs or other public property may be removed immediately by the city without prior notice. If no claim is made for the sign within 30 days, the sign may be destroyed as the city deems appropriate.
Unlawful signs on private property must be removed within 24 hours of the owner being cited. Code enforcement officials have the choice of giving an administration citation or a civil infraction. If the owner gets a civil citation and has not removed the sign, it will cost them $30 a day until it is removed.
If the owner is cited with a civil infraction and the city removes the sign after 24 hours, the sign can be picked up within 30 days after a $100 fine is paid. If the sign has not been claimed within 30 days, the city can dispose of the sign or sell it. Any proceeds will be applied to the fine.