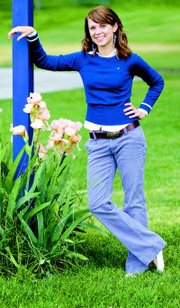 Cassie Herndon is a 16-year-old soon-to-be junior at Sunnyside High School. She has grown up in Sunnyside with her younger sister and parents, living on the family farm. Her father grows several crops, including apples, grapes, alfalfa and even mint for a time.
She has cut asparagus and worked with the apples while growing up and she says that taught her to set her goals high. "So you don't have to do this kind of work," she joked. "I've always been really ambitious but that did help to contribute."
Herndon is setting her goals high again and is competing to be named Miss Sunnyside 2006-07.
"I've always admired the girls who've ran for Miss Sunnyside," Herndon said. "I've known several of them and I think I'd make a good role model. I would also like to get more involved in my community."
She thinks she would be a good choice for Miss Sunnyside because she feels she can be a role model to others. "I have very strong morals," she says. "I'll be a good ambassador for Sunnyside."
Herndon says she is very active in her church and claims the church's youth group as, "...pretty much my second family." She is a member of the church leadership and worship teams. Herndon also likes to play church volleyball and spends three or four nights a week attending some church function, not including church services.
"My morals and basic belief system is based on the fact I'm a strong Christian," she said. She attends the Grandview Chuch of the Nazarene.
Earlier this summer Herndon spent a few days in Mexico with her church youth group. They helped build three houses in the three and one-half days the group was in Tijiuana. It is her third mission trip and the second time she has been to Mexico with her youth group.
"Meeting the people is a very great experience," Herndon said. "It's hard work, but you feel blessed when you're doing it."
Building houses plays into her future plans in life. After she graduates from Sunnyside HIgh School, she plans on attending Seattle Pacific University. "I love the campus," she said.
There, she would like to get a Bachelor's degree in either interior design or architecture. After that she would like to get her Master's degree at a college specializing in art or design.
Eventually, she said, she wants to get married and have children. She even has a plan to change careers after she has her children. She wants to become a high school teacher. She would like to teach either art, history, math or English.
"Pretty much," she says, "I just want to be happy."
Until then she will continue to troop through her high school career. She holds a 4.0 gpa and has passed all portions of the WASL. She will be taking three AP classes this year, literature, U.S. history and chemistry.
If Herndon is named Miss Sunnyside, she would like to work with the Lower Valley Pregnancy Center in Grandview. The organization is also known by the name Life Options. Her father has been involved with the project for some time. "It's needed in our community," Herndon says. "You walk down the hall at school and you can't help but notice the pregnant teenagers."
She would like to work with and help raise money for some of their programs. One such program is called Teen Aware. It's an abstinence program focused on respect and relationships.
Her role models in life are her parents. "My mom is a very dedicated person and hard working," she explains. "My dad is an amazing people person. He has a great sense of humor and has a love for people."
She said both her parents love the fact she's competing for the Miss Sunnyside title.
For the talent portion of the pageant, Herndon will be singing the song, The Christmas Shoes.
"It's a heart touching song," she said of the music that made her cry the first time she heard it. "I picked it because it has meaning. I wanted to sing a song that had a story behind it."
Herndon is taking a level-headed approach to the pageant. She said a teacher told her to remember she is the same person before and after the Miss Sunnyside Pageant. The teacher told Herndon she could grow from this experience but winning or losing the pageant doesn't make her a better or worse person.
"Whether I win or lose, I will learn something," she said. "I'm just excited to be a part of this program. All of the girls are really sweet and talented. Just being able to hang out with them has been fun."