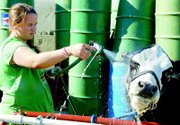 GRANDVIEW - With a flag raising ceremony at noon yesterday, the annual Yakima Valley Fair and Rodeo was officially opened.
The opening day saw displays ranging from quilts to animals prepared for guests this week.
Sno-cones, hamburgers and hotdogs were also in plentiful supply as visitors enjoyed the sights and sounds of the fair's first day.
The day also had an equestrian theme, with a horse show in the morning and an exhibition by a group from the Washington State Mounted Shooters.
The group had participants from Wenatchee to Yakima and helped mark day one with a bang as they fired at targets while galloping through a course.
But the fun has only just begun, as today will see activities ranging from livestock judging to a tractor driving contest to a band and cheer presentation.
Today's big moment, of course, is the much anticipated community parade set for 6:30 p.m. in Grandview.