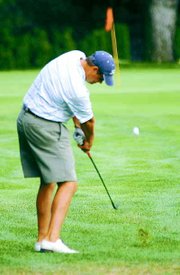 Sunnyside's Justin Bos placed seventh last Thursday at a PGA-sponsored golf tournament for youths 17 years of age and younger.
Playing on his home course, Black Rock Creek Golf Course, Bos finished just five strokes off the winning pace in the boys 15/17-year-old age division. A junior-to-be at Sunnyside High School this fall, Bos carded a 3-over-par 75.
As a sophomore SHS Grizzly golfer this past spring, Bos earned a trip to the WIAA Class 3A State Tournament in Spokane. He shot a 5-over-par 77 on Spokane's Indian Canyon Golf Course, missing the cut to advance to the day two finals by just a single stroke.
In shooting a 75 last Thursday, Bos was only five shots back of the winner-Pasco's Alex Cantu, who fired a sparkling, 2-under-par 70.
Cantu led a strong contingent of junior golfers from the Tri-Cities, as three of the top four finishers in the boys 15/17-year-old age division hailed from that area. The trio of Nick Ellis, representing Three Lakes Golf Course, and the Tri-Cities' Tyler McDougal and Alex Moore all shot even-par 72's to tie for second.
The Tri-Cities area was also well represented by the likes of Neddy Martinez, Karrissa Pizzarelli, Nick Mandell, Kelsey Aiello and Brandon Hogg. Martinez won the girls 15/17-year-old age division title with a 7-over-par 79. Pizzarelli was the low scorer in the girls 12/14-year-old age division with a 99. Mandell claimed top honors in the boys 8/11-year-old age division by shooting an 8-over-par 80. Aiello was the winner of the girls 8/11-year-old age division and Hogg won top honors for boys 7 & under.
The Thursday, Aug. 10, tourney at Black Rock Creek Golf Course was a special event conducted by the Central Washington chapter of the PGA. It's designed to provide junior golfers with an opportunity to play a competitive round with PGA professionals, of which there were 15 at the tourney.
The low scorer among the professionals was Brandon Reed, the assistant club pro at Richland's Columbia Point Golf Course. Reed finished with a 1-over-par 73.
The host for Thursday's tournament, Black Rock Creek Club Pro Jeff Bender, carded the third lowest round from among the professionals. He finished with a 3-over 75.