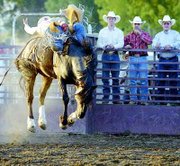 GRANDVIEW - The smells of hotdogs and hamburgers, mixed with the odors of cotton candy and elephant ears greeted people as they headed for the Yakima Valley Fair and Rodeo Saturday night in Grandview.
More than 200 competitors signed up for the rodeo, held Friday and Saturday nights. There were seven events in the rodeo: the bareback bronc ride, the tie-down event, the saddle bronc ride, steer wrestling, team roping, barrel racing and bull riding.
Entertainment was provided by George Kinter of Toppenish, a clown who did his job and kept everyone laughing.
The first event of the night was bareback bronc riding. Ben Londo of Pendleton, Ore. won the event with a score of 79.
In the saddle bronc event, Prosser's Jeb Knox won on the horse, American Outlaw. His score of 80 was good enough to earn him $592 in prize money.
The bull-riding event was won by Zeb Lanham of Sweet, Idaho. He beat out Brian Sanders, 85-81, to take the event. Lanham is ranked 12th in the world in bull-riding and Sanders is ranked 11.
In the calf tie-down event, Shane Erickson was a full second faster than Brian West. Erickson's time of 8.4 seconds cleared the way for him to take home $988 in prize money. West brought home $741 in runner-up money.
The cowboys even wrestled steers in Saturday night's rodeo. Todd Suhn brought his steer down the fastest in 4.1 seconds. That time earned Suhn $1,045. Dane Hanna and Nik Hamm followed him in second and third place.
Cowboy Cody Odell and Boogie Ray teamed up to win the team roping contest. The team of Odell/Ray roped their calf in 6.4 seconds, eight-tenths of a second faster than second place finishers Bobby Davis and Dally Curtis. The winners of this event took home $2,438.
Cowgirls got involved in the action as well with 57 contestants entering the barrel racing event. Rose Miller grabbed $913 and the top spot with a time of 16.08 seconds. She was followed by Rachael Myllymaki and Linda Vick.
"The rodeo went very well this year," Sharon Fisher, an organizer for the rodeo, said. "We had a packed house on Friday and a really good turnout on Saturday. We also had some great scores."
Fisher said there were more contestants this year than in 2005 and hopes even more show up for next year's rodeo.