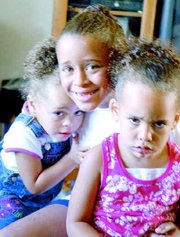 GRANDVIEW - Two-year-old Carissa primly tends to dolls gathered around a play table on the back patio, while sisters Alyssa, 3, and Natasha, 7, create an imaginary feast in their toy kitchen.
Looking on at this contented scene of childhood hospitality are the girls' parents, and grandparents, Bill and Rachael Moore of Grandview.
The Moores have nine grandchildren-including the three girls-and became new parents just over two months ago when they adopted Carissa, Alyssa and Natasha.
The path to adopting the girls actually started a few years ago when their mother-Rachael's daughter, Bill's stepdaughter-struggled with a drug problem.
Since the two younger girls were both born with meth in their system, Child Protective Services automatically stepped in to put the girls into foster homes.
When their mother could not overcome the drug addiction, CPS began looking to have the girls adopted.
"They said there was the possibility the sisters may not be able to stay together since most people wouldn't be prepared to adopt three children," Bill said.
Fortunately for the girls, the Moores are not "most people".
CPS gave the Moores first priority in adopting the sisters, and the couple embraced the opportunity.
They admit they did the math at first regarding the girls ages, and had to come to grips with the fact they will be into their retirement years when all three girls complete high school.
Bill, 61, will be 77 and Rachael, 49, will be 65 when the youngest, Carissa, graduates high school.
"You mean we're going to be this old when they graduate?!" Rachael laughs now at the memory. "You can't think that way," she says now. "You have to take it one day at a time."
Bill adds softly, "It's not about me, it's about them."
That's not to say being new parents later in life isn't without challenges.
"We had to remember to bring a diaper bag with us," Rachael smiles. "We got caught a couple of times without one."
She praised Bill's gentle spirit with the girls, and his willingness to step in and change a diaper or just be a calm presence when toys and clothes are scattered in the busy day-to-day life of raising three active youngsters.
There are other adjustments for the Moores, who both work full time. Bill is an operations manager for Kenyon Zero Storage in Grandview and Rachael is an assistant director of nurses at Hillcrest Manor in Sunnyside.
"Thank goodness for day care!" Rachael says.
Then there is adjusting to the fact that their time together is no longer their own. "It's hard sometimes to find time to talk or be alone," she says. The couple's regular trips to the beach will still happen, adds Bill, they'll just need to find more accommodations.
"Your life gets put on hold a little," he says. "But then you realize this is God's plan."
The Moores say they appreciate friends who have offered to watch the girls to give them time alone, as well as the encouragement they've received in parenting the youngsters.
Bill says they've also had the opportunity to meet other couples in their situation, grandparents becoming parents all over again.
The Moores will tell you they are also experiencing the joys of being parents all over again.
"When it was just the two of us we used to eat dinner on TV trays in the living room," Bill says. "But with the girls we knew we wanted a big table for the whole family to gather around."
That's led to tender moments like Carissa saying grace in words only she-and God-can understand.
There are also the quiet family times in the evening. Playing games together, laughing together.
Bill smiles as he recalls one special evening ritual that he and Carissa share.
"While Rachael is getting the other girls ready for bed, Carissa will be in the living room with a glass of milk," he says. When she wants a refill, she asks him quietly, "Grandpa one." He adds, "I know what she means."
Much has changed for the girls in just a few years, moving from foster homes to a new home and family.
That's why Bill says he and Rachael decided to allow the girls to keep their last names in honor of a request by Natasha, the oldest. "There has been so much taken away from them that we couldn't take away their names," he explains.
They may not know it yet, but the girls have also gained much.
"If this is how the Lord wants us to serve them, then we'll give them all the love we can," Bill says humbly. "Hopefully we can give them a good quality of life."
Suddenly, the girls rush into the room.
It may be years before they fully understand the quality of life they've received, or the blessing of remaining united as sisters.
But there's one thing they understood at that moment-it was Yakima Valley Fair and Rodeo time.
"Who wants to go see the parade?" Bill asked amidst cheers in anticipation of this past Thursday's event in Grandview.
The girls hugged their mom and dad, grandma and grandpa, ready for an outing-a family outing.