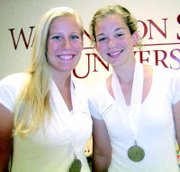 PULLMAN - Grandview's Jr. Miss, Allison Grow, competed in Washington's 2006 Junior Miss Program at Washington State University's Beasley Performing Arts Coliseum this past weekend with 20 other junior misses from around the state.
"It was very fun," Grow said. "It was also hard. We worked a lot the three days we were up there."
Grow said the girls spent most of each day working on their fitness program and poise.
Grow stayed with a host family while she was in Pullman. She said each day started at 7:30 a.m. The girls would then practice and work out until lunch. After lunch, the girls would go through the same routine, working out and practicing for the program. The contestants would break for dinner and then come back again to work out until 10 p.m.
Grow learned something about her and the other girls from this experience. "Working on a strenuous fitness program for three hours and with muscles aching, we were able to do it again after an hour break."
It wasn't all work and no play for Grow and the other contestants. She said on one day the young ladies had lunch with Pullman's Chamber of Commerce. On another day, the junior misses had lunch with staff from WSU.
Saturday, the day of the program, Grow had her interview at 7:30 a.m. During the program each girl was asked a question in the self-expression portion of the show. She was asked if she could be on any magazine in the world, which one would it be and why.
"I answered Horse Illustrated because it's my favorite magazine and I love the horses that are in it as well as the girls featured that have accomplished so much," she answered.
Pullman's Junior Miss, Lexie Fairbanks, ended up being named Washington's 2006 Junior Miss. She will go on to compete in the annual America's Junior Miss National Finals in Mobile, Ala. next summer.
Clarkston Junior Miss Cecilia Hui was named first runner-up and Issaquah Junior Miss Kelsey Schmidt was named second runner-up.
Grow was excited for Fairbanks. "She was a great girl," she explained. "I was very happy for her. All the girls liked her."
Grow said all of the contestants were great. "We had so much fun and each of the girls had their own personality."
She said she was very happy overall with her experience and thinks Grandview should continue on with its tradition of the Junior Miss Program.
"It's great for the girls and they learn so much from it," she said.